Donald Trump 2016: Latest Odds on Trump's Presidency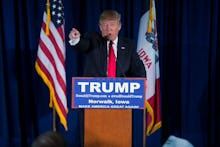 Evan Vucci/AP
Republican frontrunner Donald Trump has continued to hold a comfortable lead over other GOP hopefuls for his party's nomination. Trump more than doubles the support of the second-closest Republican candidate — Texas Sen. Ted Cruz — with 36% among likely GOP voters, according to the latest national poll released by Monmouth University on Wednesday. Cruz sits at 17%, while Florida Sen. Marco Rubio is the only other Republican candidate in double digits, with 11% support. 
While there is some concern among Republicans that they might have to concede that either Trump or Cruz will win the nomination, the real estate mogul might have a better track to the White House because of the Trump-produced controversy surrounding Cruz's citizenship. According to the poll, roughly one-third of likely GOP voters do not believe Cruz is a "natural-born citizen," and therefore ineligible to be Commander in Chief.  
"Contrary to many party leaders' hopes, the electability argument is not going to drag down Trump," Patrick Murray, director of the independent Monmouth University Polling Institute, said in a statement, "but there may be some doubts about Cruz." 
Trump has also continued to hold favorable numbers in polls for the upcoming Iowa caucus and New Hampshire primary. New Hampshire, in particular, is looking more and more like Trump's state to lose. According to FiveThirtyEight's primaries forecast for the Granite State, Trump has a 46% chance of winning the primary, with Cruz his closest competitor at 15%. However, there are several candidates who have somewhat respectable figures, which could potentially lead to an increase in numbers depending on success in the Feb. 1 Iowa caucus that precedes it. 
"It's early in New Hampshire, and there are five other candidates besides Trump who have at least a semi-credible path to victory there," FiveThirtyEight's Nate Silver wrote. 
Twitter, in the meantime, is collectively processing Trump's numbers: 
In Iowa, though, the situation is far more cloudy, with Trump and Cruz just a couple of points away from one another. According to the latest Iowa poll by Quinnipiac University released on Jan. 11, Trump sits at 31% support, with Cruz just two points behind. However, Peter A. Brown — assistant director of the Quinnipiac University Poll — said in a statement that he believes Cruz has an advantage over the real estate mogul in the Hawkeye State, as more Republicans are inclined to vote for him based on his superior personable characteristics when compared to Trump. 
"The imbalance in perceived personal qualities may give Cruz a higher ceiling, a key metric entering the home stretch," Brown said. "Only 7% of Republicans say they could never vote for Cruz, while 26 percent say no way to Trump." 
What could propel Trump's numbers in Iowa is his endorsement from former Alaska Gov. Sarah Palin on Tuesday. According to the New York Times, Palin "spent years developing a network of supporters" in Iowa, which could prove to be the added boost Trump needs to stand apart from Cruz in the closely-contested state. Additionally, Palin's support could propel further endorsements for the Republican frontrunner, as he's failed to compete with the number of endorsements tallied thus far from other GOP candidates. 
Watch Palin's speech endorsing Trump below: