'Star Wars Episode VIII 'Release Date Is Delayed and the Internet Is Freaking Out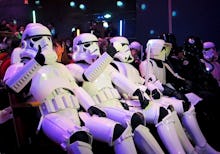 Uncredited/AP
It has been over a month after Star Wars Episode VII: The Force Awakens hit theaters, and already fans are jonesing for their next box office hit. Unfortunately for them, Episode VIII is no longer scheduled to be released May 26, 2017, according to a statement Wednesday from Disney and Lucasfilm — instead, the next installment in has been scuttled to Dec. 15, 2017. The countdown clock has been reset — just over 694 days until Episode VIII, which is 694 days too many for the Twitter community.
Read more:
"How am I supposed to wait 695 days until episode VIII when i can't even wait 5 minutes for the microwave," @galaxyanakin tweeted.
"Please take a moment of silence to mourn for the delay of #StarWars: Episode VIII," @turnt_bb8 added.
Perhaps it's the lack of information that's left Star Wars fans so bereft: We know that Daisy Ridley, John Boyega, Adam Driver, Mark Hamill and Oscar Isaac will reprise their roles from Episode VII, and we know it'll be directed by Looper's Rian Johnson, but available information on the follow-up film ends with cast and crew. The suspense may actually be killing the internet.
They're definitely getting snarky.
A very mature few, though, have chosen to look remain positive in this time of trial:
While no reason for the film's delay has been given, one wonders if it's a ploy on the part of the production companies to up their profits by upping demand. The Force Awakens annihilated box office records, becoming the biggest movie in the United States just 20 days after its release. Whatever the explanation for the change in schedule, one hopes the extra time will make for an even better eighth installment. Fans will invariably have a lot of feelings to share, should the film fall short of Episode VII's astronomically high standard.