The Pro-Choice Movement Just Scored a Major Win in Arkansas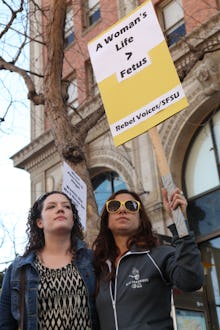 Not everything should make a comeback.
In February 2013, Arkansas passed the strictest abortion ban in the country via the Human Heartbeat Protection Act, a bill that made it illegal for women to receive an abortion after 12 weeks if doctors could detect a heartbeat. According to Mother Jones, two doctors had challenged the bill in the lower courts, which prevented it from ever going into effect. 
Nearly three years later, supporters of the bill in the Arkansas Legislature, which at the time overrode then-Democratic Gov. Mike Beebe's veto, were still fighting to appeal the decision. On Tuesday, the U.S. Supreme Court told them tough luck and threw out a petition for the court to reconsider the ban.
The court ruled that the case, Beck v. Edwards, raised a crucial question of viability, which was answered in the landmark case Roe v. Wade and the subsequent Planned Parenthood of Southeastern Pennsylvania v. Casey. In the petition, the Supreme Court notes the state of Arkansas was asking whether the decisions made in these historic decisions should be "revisited and overruled." The court's answer, in short, was no.
It's a big win for pro-choice advocates continuing to fight restrictions on women's access to abortions across the country.
"The Supreme Court has never wavered in affirming that every woman has a right to safely and legally end a pregnancy in the U.S. — and this extreme abortion ban was a direct affront to that right," Center for Reproductive Rights president and CEO Nancy Northup said Tuesday in a statement.
Correction: Jan. 21, 2016