Winter Storm Jonas Memes Are Taking Over the Internet as East Coast Braces for Blizzard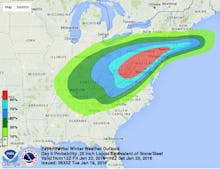 In case you haven't noticed, it's officially winter in the United States. Temperatures have finally plummeted to below freezing following an unusually warm December as parts of the East Coast brace for an approaching blizzard, dubbed "Winter Storm Jonas," which is expected to hit the region this week.
According to the National Weather Service, places like Virginia, Maryland, D.C. and northwest North Carolina can expect a foot of snow. New York City and Long Island, New York, will likely see about six inches of snow. Ice will also pose a threat to residents throughout Arkansas, Missouri and Kentucky, as well as power outages and potential damage to trees.
However, instead of focusing on their impending chilly dooms, Northeastern U.S. folks have instead embraced the name of the forthcoming storm with some hilarious viral memes. 
Read more: 
People are really enjoying the fact the first major snowstorm of the season shares the same name as a former boy band:
Experts are reminding the rest of the nation not to be too "Jealous" about getting smacked by Winter Storm Jonas:
Twitter is even finding new meaning in Nick Jonas' lyrics:
Winter Storm Jonas has ripped off its purity ring and is ready to unleash hell:
And fans seem to think the storm was named after the boys as some sort of distinguished honor:
While others are wondering when the storm will release its own solo album: