Trevor Noah's Job Just Got a Lot Easier (Because Sarah Palin)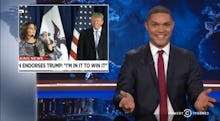 On Wednseday, Daily Show host Trevor Noah threw in his two cents to the commentary surrounding former Alaska governor Sarah Palin's endorsement of 2016 Republican presidential candidate Donald Trump.
Taking aim at Palin's 30-minute Trump endorsement speech that the 2008 vice-presidential candidate delivered Tuesday, Noah could not contain his glee over the Trump campaign's latest — and arguably most important — development, zeroing in on how Palin's unusual speech patterns (memorialized in Vines like this) veered to the point of gibberish. 
"It's not even human," he said, "It's like the only thing Sarah Palin hates more than Obama is punctuation."
A visibly amused Noah did not let up, comparing Palin to both a robot and "a bag of Scrabble tiles that grew a body and came to life."
Noah said that watching Palin would be a cathartic moment for Africans like himself who have stomached bizarre representations in comedies like Coming to America and The Gods Must Be Crazy. "Now as Africans, we're watching this," he said.
The "fake news" host noted that the candidate stood silently behind Palin, at times smiling or giving a thumbs up. "He just stood behind her on stage the entire time and he looked like he understood everything she was saying," said Noah. 
Noah said it reminded him of old wrestling interviews, where athletes would often throw inaudible taunts at their opponents, while interviewers stood motionless.
The Trump-Palin bonhomie evoked more than a bit of Daily Show poetry. Shortly before his retirement, host Jon Stewart compared the rise of Trump to the Palin phenomenon of 2008, calling them both internet comments that had come to life. "You thought Wasilla Wordsalad was hard to shake?" asked Stewart. "Wait'll you get Trump Dump on you." 
Prophetic.
Get the five stories that will challenge you to rethink the world by signing up for MicCheck Daily.