Zendaya on Accepting Her Curls: "It Wasn't Like the Hair That Girls Around Me Had"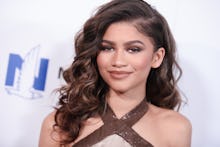 At this point, singer and actress Zendaya is a red carpet favorite, becoming a young icon-in-the-making for her glamorous gowns as well as her ever-changing, always gorgeous hair. From dreads to a pixie to long, flowing waves, the 19-year-old (!) is not afraid to experiment and defend her choices.
But Zendaya, who appears to be confidence incarnate most of the time, has grown into that hair confidence, she said recently. In an interview with People StyleWatch, Zendaya said her curly hair once made her feel like an outcast. 
"Growing up, I wasn't very confident in my curls," she told the magazine. "It wasn't like the hair that girls around me had. And nobody really knew what to do with my hair."
"Obviously you want what you can't have, so I wanted different hair than what I had," she added. "And it wasn't until I got older that I learned you don't know what you've got until it's gone."
That insecurity and discontent over the appearance you've been born with resonates for many people — especially when it comes to women coming to terms with their natural hair. As fellow rising star Amandla Stenberg recently said, "I think that as a black girl, you grow up internalizing all these messages that say you shouldn't accept your hair or your skin tone or your natural features."
For Zendaya, that's meant coming to terms with her unique hair texture.
"My mom is white and my dad is black — they have two very different hair types," she told People StyleWatch. "So we learned how to manage my hair together, and I also watched YouTube videos to find easy styles to do.
"When I was younger, I was afraid to experiment with my look because I was worried about what people thought. But as I've gotten older and become more confident in myself, I just don't care."
She also doesn't care if people give her a hard time for it. In February, when she wore dreads to the Academy Awards, E! red carpet talking head Giuliana Rancic infamously remarked that Zendaya probably smelled like "patchouli" and "weed." Days later on Instagram, where she has more than 19 million followers, Zendaya posted a comment that called out the criticism as "ignorant slurs and pure disrespect." 
In June, Zendaya took to Twitter to call out the people who were making fun of the pixie she wore to the BET Awards. Her response, in short: IDGAF. 
And in October, she took a stand against Photoshop when she noticed that her hips and legs had been shaved down for Modeliste magazine. "These are the things that make women self-conscious, that create the unrealistic ideals of beauty that we have," she wrote on Instagram. "Anyone who knows who I am knows I stand for honest and pure self love." 
The girl knows how to defend herself — only, of course, after having gained that confidence over time. As a still-teenage role model, Zendaya's the kind of role model for teen fans who may be going through a period of insecurity themselves. 
h/t Seventeen