Boston Snowstorm 2016: Forecast and Expected Snowfall for This Weekend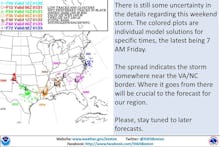 National Weather Service
The East Coast's first major winter storm of the season is fast approaching. Weather experts expect the storm to leave up to several feet of snow in Washington on Saturday before heading further north toward Boston. Forecasted snowfall for New England is less certain, however, as the storm, which the Weather Channel has named Winter Storm Jonas, could turn east back into the Atlantic as it heads north of New York, WCVB reported. 
"The latest information shows most impact in the mid-Atlantic states with Southern New England just getting clipped as the storm passes well offshore," the National Weather Service predicted, according to the Boston Globe. 
"It's much more questionable whether the moderate or heavy snow gets into Boston or at least the south coast of New England or not," StormTeam 5 Chief Meteorologist Harvey Leonard reported for WCVB. "That still has to be played out." 
The National Weather Service for Boston is still unsure of the storm's track and how much impact it will have on the Boston area. According to a few possibilities laid out by the National Weather Service, Boston could experience anywhere from no snowfall to seven inches of accumulation in some areas. Parts of Rhode Island and Connecticut can expect the most snowfall of New England states, but still less than a foot maximum. 
Aside from snowfall, a strong wind resulting from high tides and a full moon will cause potentially dangerous flooding along the coast. "With the full moon, high tides will run a bit higher than usual," WCVB's StormTeam 5 Meteorologist Cindy Fitzgibbon reported. "With high pressure to the north, coupled with the storm to the south, that leaves the New England coastline with a persistent onshore wind that will pile up the water along the coast through much of the weekend."
Wind speeds could top 54 mph in some areas along the coasts. Here's the maximum wind gust potential for New England through Sunday: