Bernie Sanders Takes Hillary Clinton to Task on Climate Change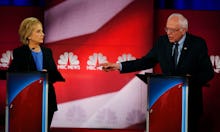 After enduring weeks of attacks over his electability, his gun control record and his ambitions for a single-payer health care system, Sen. Bernie Sanders (I-Vt.) is now on the offensive, charging that fellow Democratic presidential candidate Hillary Clinton has failed to fill in many blanks when it comes to combating climate change.
The Sanders campaign fired the opening salvo Wednesday, the same day NASA and the National Oceanic and Atmospheric Administration announced that 2015 was the hottest year on record, surpassing the record set in 2014.
The attack: "With only 12 days to go before the Iowa caucuses, however, it remains unclear whether Hillary Clinton will tell voters what she would do to address climate change," Sanders spokesman Michael Briggs said in a statement. "In July, a post on her campaign website promised a 'comprehensive energy and climate' plan 'in the coming months.' It's now six months later. What's taking so long?"
Briggs suggested this fit a larger pattern with Clinton, noting that "it took the former secretary of state four years to take a stand on the Keystone pipeline, which would carry some of the dirtiest oil on the planet across the United States."
The Clinton campaign aggressively fired back Wednesday evening, when campaign chairman John Podesta published a post on Medium outlining Clinton's climate agenda. "Today, the Sanders campaign asked where our climate plan was. I guess they didn't look too hard," he wrote.
Podesta ticked off a laundry list of Clinton's proposals, including installing 500 million solar panels across the nation by 2020, incentivizing states and localities to develop clean energy plans, upgrading the nation's energy infrastructure and defending the Obama administration's Clean Power Plan. Moreover, Podesta noted, Clinton (after much delay) came out against construction of the Keystone pipeline, which would have transported tar sands oil from Canada to the Gulf of Mexico and his criticized oil drilling in the Arctic and Atlantic.
Not impressed: That hardly satisfied the Sanders campaign. In a tweet Thursday morning, the campaign pointed to a number of outstanding questions about Clinton's climate agenda, including whether she'd back a tax on carbon emissions, ban fossil fuel extraction on public lands and oppose fracking:
Advocates for action to tackle climate change have voiced similar concerns. In July, the Washington Post editorial board expressed disappointment that Clinton hadn't endorsed a carbon tax, arguing that such a tax would "forc[e] emitters to pay for the dangerous damage they do to the environment" and incentivize the use of cleaner energy forms. A range of economists, including conservative N. Gregory Mankiw, believe a carbon tax is the most efficient approach to moving away from fossil fuels; Sanders' climate plan includes a tax on carbon.
Moreover, Clinton's environmental record at the State Department has given some climate activists pause. A Mother Jones investigation in 2014 documented Clinton's role in championing fracking for shale gas in countries around the world. During her State Department tenure, Clinton also suggested she'd support construction of the Keystone pipeline, which she new opposes.
How it plays: Though Sanders aims to tap into lingering progressive unease about Clinton with his climate offensive, Clinton hardly lacks support in the environmental community. She secured the endorsement of the League of Conservation Voters in October, and billionaire green activist Tom Steyer hosted a fundraiser for Clinton last year.
"We believe that she has the skills, the experience and the passion for addressing climate change and other environmental issues over many years, from her experiences in the White House as first lady, as a senator, as secretary of state," Tiernan Sittenfeld, senior vice president for government affairs at LCV, told Mic in a recent interview. Clinton, Sittenfeld said, would be able to "hit the ground running on day one."
There may be at least one large crack forming in Clinton's green support, though. Despite raising funds for her campaign last year, the San Francisco-based Steyer sounds increasingly noncommittal about Clinton's bid. In an interview with Reuters published Wednesday, he said he wasn't ready to formally endorse her campaign, citing concerns that her climate agenda isn't detailed enough.
"I don't think she's fully fleshed out everything she has to say about energy and climate," Steyer told Reuters. "I think that as the campaign goes on I would imagine she will put out more detailed plans of exactly what she thinks. I don't find what she's said inadequate, but I don't think it's complete yet."