This Is the Email That Reveals How Badly Flint, Michigan, Failed Its People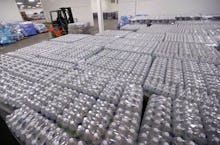 It's no secret the water crisis in Flint, Michigan, is an administrative screw-up of massive proportions, but when Gov. Rick Snyder released 274 pages of internal emails to the public on Wednesday, one passage stuck out as especially damning.
On Dec. 24, Meegan Holland — the communications director for Snyder — sent an email to the governor and members of his administration briefing them about an audit being conducted by Michigan's Office of the Auditor General. The audit was directed at the Office of Drinking Water and Municipal Assistance, and how it responded to Flint residents receiving filthy brown stink-liquid instead of clean drinking water.
Turns out the Environmental Protection Agency was asking questions about Flint's water problem as early as February 2015. Here's one thing they asked Michigan's Department of Environmental Quality at the time: Is Flint having trouble with corrosion control treatment? Here's the answer the DEQ gave: No, we have an "optimized system" in place.
But when the EPA asked the same question again in April, the DEQ's answer was different: "DEQ said that the Water Treatment Plant was not doing corrosion control," the email brief reads. The DEQ later clarified that their answer from February actually meant they had a program in place to monitor the Flint River — the source where Flint's water was coming from — for lead contamination over two six-month periods. After those monitoring periods, they would make a decision on how to handle whatever corrosion risks they found.
Here is an excerpt from that passage (from page 250 of the emails):
By now, we know this was too little too late. The corrosive nature of Flint's river water wreaked havoc on the city's 75-year-old pipe system, releasing lead into the city's water supply, poisoning dozens of people and sparking what President Barack Obama recently declared a state of emergency. Flint is 57% black, with 41% of residents living below the poverty line.
The Dec. 24 email brief claims the DEQ believed it was operating within EPA regulations at the time, and that there was no reason to believe they were willfully concealing anything. But in a statement to NBC News Wednesday, the EPA still blamed the crisis squarely on state and local officials, saying they were "responsible for implementing the regulations to protect their residents' drinking water," and that the EPA's efforts to help them out were "impacted by failures and resistance at the state and local levels."
Meanwhile, Flint residents had been complaining about dirty water coming from their pipes as early as April 2014. That month, Flint was forced to stop buying water from Detroit and switch to a new water source, the Flint River, while a pipeline was constructed to funnel them water from Lake Huron. Over that period, Flint residents and supporters flooded the Internet with stomach-churning images of their contaminated water, all the while complaining about skin rashes, hair loss and other symptoms.
According to a timeline compiled by the Associated Press, government officials nevertheless spent much of late 2014 and 2015 playing a dangerous game with the lives of Flint residents, at times claiming the water was totally safe to drink while at others advising residents to boil it to get rid of bacteria. Finally — after multiple tests revealing high levels of toxins — switching back to Detroit as a water source in October.
"I'm sorry, and I will fix it," Snyder told residents during his State of the State address on Tuesday, according to the New York Times. Multiple class action lawsuits have since been filed against Flint and Michigan officials on behalf of Flint residents.
Get the five stories that will challenge you to rethink the world by signing up for MicCheck Daily.