Female Politician Nicola Sturgeon Swiftly Shuts Down Dude Who Judges Her Clothes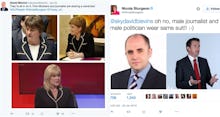 Scottish politician Nicola Sturgeon, who happens to be leader of the Scottish National Party and the first female first minister of Scotland (basically the head of the Scottish government), took the quickest of breaks from all her badass ministering to check Twitter on Wednesday. 
What she found: A male journalist, Sky News' Ireland's David Blevins, had called out her and two other female public figures for apparently wearing the same jacket.
Blevins called out Sturgeon as well as Tracey Magee, a Northern Irish broadcast journalist, and Arlene Foster, a politician who happens to be the first minister of Northern Ireland, according to Mashable. All three have recently worn similar looking black blazers with off-white trim, something Blevins thought was highly amusing.
Sturgeon didn't.
With no more than a quick response and an emoticon for good measure, Sturgeon made the solid point: Women may be scrutinized for their clothing choices — and God forbid, their similar clothing choices — but all the while, 99.9% of professional men in the Western world are basically twinning every day in dark, boring suits and ties.
Oh, and women are more than just their clothes, as Magee proved in her retort.
Everyone's clothes matter, to the extent that the world sees them when you walk outside and may come to conclusions about you based on them. That is especially true of public figures, including politicians (just ask Hillary Clinton). But perhaps male and female professionals could be held to the same fashion standards for once — when it comes to accidental matching or having their clothing called out at all.
h/t Mashable