Donald Trump Thought Sarah Palin's Endorsement Speech Was a Bit Too Long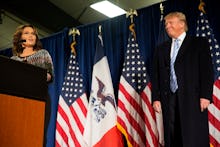 Republican presidential frontrunner Donald Trump, hardly a man of few words, thought Sarah Palin went on a tad too long in her Tuesday night endorsement speech.
Palin, the former Alaska governor, threw her support behind the real estate magnate during a much-anticipated joint appearance in Ames, Iowa, on Tuesday.
Trump — in a Wednesday night phone interview with CNN that went on for awhile itself — denied having been uncomfortable during the Palin-led pep rally.
"I didn't know it was going to be quite that long," Trump told interviewer Don Lemon when asked about his comfort level, "but she made a beautiful, you know, she made a very good speech."
Trump continued, "No, I wasn't uncomfortable. I was very happy. I would have normally left the stage and let her speak, but I thought it would nice, I thought it would be, you know, frankly nice if I was there. I thought it would be disrespectful to her if I left the stage. So, no, I wasn't uncomfortable at all."
Trump fielded the questions after pundits like conservative Rush Limbaugh noted that the Republican candidate stood stiffly next to Palin as the 2008 vice presidential nominee lavished praise on him throughout her 20-minute speech.
"Isn't he known for being able to command?" Palin asked on Tuesday in Ames. "Are you ready for a commander in chief, for a commander in chief who will let our warriors do their job and go kick ISIS' ass?"
Palin stumped for Trump again Wednesday in Tulsa, Oklahoma, where she for the first time addressed new reports that her son, Track, had been arrested on domestic violence-related charges in Wasilla, Alaska.
Palin told the crowd that President Barack Obama deserved some of the blame for her son's problems due to having been disrespectful to veterans like Track Palin, who she said suffered from post-traumatic stress disorder. 
Whether Palin's support puts Trump over the top in early voting Iowa, where he's faced a renewed challenge from rival Ted Cruz, remains to be seen when the Hawkeye State caucuses on Feb. 1.
Although Palin isn't as popular as she once was, she still maintains a following among the sector of right-of-center voters that handed Republican presidential candidate Mike Huckabee a caucus victory in 2008 and Rick Santorum in 2012.