Who Is Kathryn Smith? A Look at the NFL's First Female Full-Time Coach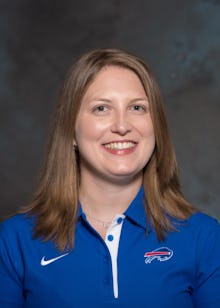 Uncredited/AP
Perhaps long overdue, the NFL has hired its first full-time female coach, management for the Buffalo Bills announced on Wednesday. Kathryn Smith is stepping into her new role as a special teams quality control coach for the Buffalo, New York, football team.
Read more:
"Kathryn Smith has done an outstanding job in the seven years that she has worked with our staff," the team's head coach, Rex Ryan, said in a statement shared on Twitter. "She certainly deserves this promotion based on her knowledge and strong commitment, just to name a couple of her outstanding qualities, and I just know she's going to do a great job serving in the role of Quality Control-Special Teams."
"Kathryn has been working in a football administrative role and assisted the assistant coaches for years," Ryan continued. "She has proven that she's ready for the next step, so I'm excited and proud for her with this opportunity."
Smith is no outsider to the NFL. "She's had a long history with Rex Ryan and [has been] part of the Jets organization for 12 years before she even came to the Bills, so it wasn't like the Bills are hiring someone from the outside," ESPN reporter Mike Rodak said in a phone interview on ESPN. 
"It's going to be a lot of film breakdown, it's what a lot of quality control coaches do," Rodak said, describing Smith's new responsibilities. "There's a lot of long hours in the office, a lot of long hours sitting in front of a screen and breaking down a lot of film." Rodak added that tracking tendencies, running scout teams and gameday duties may also be among Smith's new tasks.
Reacting to the news on Twitter, many took the appointment as a sign of positive change for the NFL.
According to Smith's LinkedIn page, the sports professional has held a number of roles in the NFL. Some of her past titles for the New York Jets include assistant to the head coach, player personnel assistant and game day/special events intern and college scouting intern. Smith's LinkedIn page also states that she graduated from Saint John's University in 2007, where she earned her bachelor's degree in sports management with a minor in business.
Though Smith is a landmark hire, one Twitter user put the news into context and perhaps said it best by pointing out that gendering the discussion might be unnecessary if equality of the sexes is the ultimate aim. 
"No need to call Kathryn Smith a 'female' assistant coach," the user wrote. "She's an assistant coach. That's it."