Mark Ruffalo Is Considering an Oscars Boycott Over #OscarsSoWhite Controversy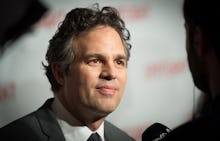 Samir Hussein/Getty Images
Actor Mark Ruffalo is the first caucasian person and 2016 Oscar nominee to publicly consider boycotting the this year's Oscars ceremony over the lack of diversity among nominees that sparked widespread controversy over the past week. 
"I'm weighing it, that's where I'm at right now," Ruffalo, nominated as best supporting actor for his role in Spotlight, said in a BBC interview Thursday. "I woke up in the morning thinking, 'What is the right way to do this?' Because if you look at Martin Luther King's legacy, what he was saying was the people, the good people who don't act are much worse than the people, the wrongdoers who are purposefully not acting and don't know the right way."
Read more:
Not one actor of color was nominated for an Oscar this year, a pool of nominees that many say reflects the homogenous demographic of Academy members. Ruffalo, however, said the diversity problem extends far beyond the Academy. "It's the entire American system," he told BBC. "[It] is rife with the kind of white privilege racism that goes into our justice system."
African-American actress Jada Pinkett Smith announced she'd boycott the awards show in a viral Facebook video Monday. "Is it time that people of color recognize how much power, influence, that we have amassed, that we no longer need to ask to be invited anywhere?" she said in the video. "Maybe it's time that we recognize that if we love and respect and acknowledge ourselves in the way in which we are asking others to do, that that is the place of true power."   
Spike Lee also announced he wouldn't be attending the Oscars in a statement criticizing the exclusion of African-American people from nominations. He later cleared up that he won't be able to make it because he'll be at the Knicks game, not because he's boycotting.
Academy president Cheryl Boone Isaacs, the first African-American and third female in the role, responded to the controversy in a statement Monday pledging to enhance diversity among Academy members by conducting "a review of our membership recruitment."
"I both am heartbroken and frustrated about the lack of inclusion," Isaacs wrote.