A New App Is Here for Men Looking to Have Sex With Men — Even If They're Not Gay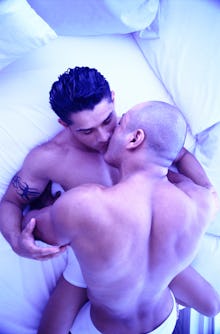 With all the discussion about sexual fluidity in 2015, it's only natural that dating and hookup apps would jump on the trend. The latest company to make an entry into the gay hookup app market? An app called Bro (because of course it's called Bro), a dating app for men who want to have sex with other men, even if they don't necessarily self-identify as gay. 
Because of the app's avoidance of explicit sexual labels, there is some confusion as to who exactly it's designed for.
Bro founder Scott Kutler told Mic that the app is catering to dudes who want to have sex with other men, without explicitly self-identifying as gay or bisexual. "One of the reasons we don't state bi or gay in our app is that we believe it shouldn't matter when meeting other men," Kutler told Mic in an email. "We've found labels are becoming less and less relevant — and rightfully so, since they can be damaging."
But gay website Queerty wrote that the app caters specifically to "heteroflexible" guys seeking "bro jobs" — in other words, straight men who dabble in gay sex while ostensibly maintaining their straight identities. This interpretation would certainly be in line with the recent flurry of internet trend pieces highlighting the prevalence of male sexual fluidity, many of which have been pegged to last year's buzzy book Not Gay: Sex Between Straight White Men by Jane Ward. Recent data from the Centers for Disease Control and Prevention supported the idea that "bro jobs" might actually be a thing, reporting that 2.8% of straight-identified men have engaged in anal or oral sex with other men.
Kutler is quick to point out, though, that Bro isn't just trying to be a Grindr for straight (or "straight," whatever) dudes.
"The app is geared towards men that typically identify as bi/gay, and sexually fluid men are welcome to try it," he told Mic. So despite its "no labels" branding, there seems to be an understanding that the majority of men who would be interested in a networking app for men-seeking-men are likely to be gay or bi.
Psychotherapist and author of the book Is My Husband Gay, Straight, or Bi? Joe Kort told Mic that given the stigma against men having sex with other men, an app catering to sexually fluid men could be useful.
"They have no community and nowhere to go to meet," he said. "So I actually think this app is going to be perfect for them for now."
That said, there's something more than a little problematic about Bro's packaging, which features such hallmarks of bro culture as frat-y red Solo cups and the stereotypically manly mascots (not to mention the usage of the word "bro" over and over [and over] again). One might say that for an app that seeks to transcend labels, it sure is clutching tightly onto one label in particular: masc.
There seems to be nary an inch of space for men who don't vibe with traditional expressions of masculinity, something that is a little reminiscent of the "masc for masc" (and/or "straight-acting") phenomenon, in which some gay or closeted men are instilled with feelings of self-loathing and live in crippling fear of being perceived as anything other than a v. macho man.
Kort believes that this will likely be an unavoidable aspect of Bro's existence, but he doesn't necessarily see it as a problem so long as it helps such men become more comfortable with themselves.
"There's still a lot of internalized homophobia within the gay male community centered on 'straight-acting' men," he told Mic. "But as a therapist, I think it's OK if the app gets filled with these men because each of these men are working something out anyways."
Kutler is similarly hopeful that the app will do more good than harm in this regard.
"I agree that 'masc for masc' ideals can be very damaging to the community, and I also think that being comfortable with your sexuality is a process," he said. "If someone is in the closet, there shouldn't be judgment. They should have a safe space to find similar friends or men that have experienced it and are willing to help; not judge them for being 'closet cases.'"
Such noble intentions aside, the question remains: Where does this leave all the fem gays?
h/t Queerty