Is There a Snowstorm Coming? Everything You Need to Know About Jonas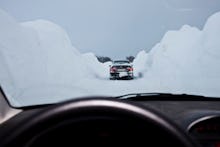 AFP/Getty Images
This weekend will be the first winter storm of the season — and it's going to be a whopper, according to just about every media outlet. Dubbed Winter Storm Jonas, the storm will be a nightmarish mix of heavy snow, ice, powerful winds and coastal flooding, causing many flights to most likely be delayed or even canceled. Over 15 states are supposed to be impacted by the storm, with more than 20 inches of snow expected in places like Washington, D.C., the Weather Channel reported.
The storm first appeared on meteorologists' radars late last week, and now pretty much no one is denying its oncoming existence, according to Slate. To no one's delight, words like "crippling" and "blockbuster" have been used to describe Jonas. So what exactly should one of the 73 million Americans under some sort of storm watch as of Thursday morning really expect?
The mid-Atlantic is expected to feel the wrath of the storm, which'll begin on Thursday. It'll begin with snow and sleet, and that mess will continue into Friday. By Saturday, heavy snow and strong winds will be blasting the East Coast, from South Carolina up to New England, the Weather Channel reported. Winds will reduce by Sunday.
Read more:
Snow had already started falling Wednesday night in some parts of the central Plains. The National Weather Service has weather advisories posted for Nebraska, Kansas, Missouri, Oklahoma and Arkansas, the Weather Channel reported. But the storm will move east. 
Those in Florida and on the warmer edges of Jonas will experience severe thunderstorms and strong winds, as well as threats of flash flooding, the Weather Channel reported. 
In New York and around New England, at least six inches of snow are predicted to hit. The heaviest snowfall will occur in the region around West Virginia, Maryland and the Carolinas, with up to 20 inches expected. 
Don't confuse a winter storm with only snowfall. On Saturday parts of the Northeast, including the Chesapeake Bay in Maryland and New Jersey, could see winds up to 60 mph, which could possibly rip down trees and power lines. 
The wind and snow will likely cause the ocean to surge up to six feet above high tide, causing beach erosion and putting coastal cities at risk. This type of flooding would be comparable to 2013's Hurricane Irene, which was about a foot from entering the New York City subways, the Economist reported. The risk for flooding is most imminent on Saturday. The areas with the biggest flooding risk are Delaware, New Jersey and the Chesapeake Bay in Maryland, according to the Weather Channel. 
Ice is expected in Kentucky and North Carolina, the National Weather Service said. 
Winter Storm Jonas has state officials already scrambling in anticipation of the storm. Several places, like Virginia and Georgia, have already issued states of emergencies. On Wednesday New York City's Office of State Emergency Management released a public service video to inform and help residents prepare for what's to come, ABC reported.
Correction: Jan. 21, 2016