As Calls for Chris Rock to Not Host the 2016 Oscars Increase, Will Smith Joins the Boycott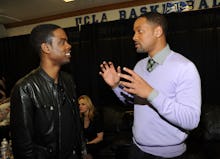 In one week, #OscarsSoWhite has gone from an unfortunate sequel to last year's all-white Academy Award nominee pool to a full-blown crisis. Now, one of the biggest movie stars in the world is joining a boycott of the awards, while host Chris Rock is facing increasing pressure to step down.
Rapper 50 Cent and singer Tyrese Gibson are both calling for Rock to join the boycott by refusing to host the awards. The former asked Rock to step down Tuesday in a since-deleted Instagram post.
"Chris, please do not do the Oscars," he wrote in the caption. "You mean a lot, man, don't do it."
Gibson also posted a similar claim on his Instagram account, telling him, "No joke you can crack [will] change the way we all feel." 
He followed up on the idea in a statement to People magazine, in which he compared Rock resigning as host to quitting if LGBTQ actors and creators were excluded from the Oscars.
"If the host Chris Rock was a homosexual he would have stepped down already," he said. "There is no way for him to seize the moment and come into this thing and say, 'I'm going to say this and say that I'm going to address the issue but then I'm still going to keep my gig as the host.' The statement that you make is that you step down."
Gibson's statement serves as a counterargument to critics who have argued that Rock's best move is to stay as host and use his position to critique the Academy of Motion Picture Arts and Sciences through humor.
Meanwhile, the list of stars and creators boycotting the ceremony grows. In addition to Mark Ruffalo, the first white actor (and a nominee this year for Spotlight) to publicly consider a boycott, Will Smith has joined wife Jada Pinkett Smith in abstaining from attending.
"We're part of this community but at this current time, we're uncomfortable to stand there and say that this is OK," Smith said of the boycott on Good Morning America. "There is a position that we hold in this community, and if we're not part of the solution, we're part of the problem."
The Smiths and director Spike Lee won't be attending the awards this year, while George Clooney, Lupita Nyong'o and David Oyelowo have all spoken out about the all-white nominee pool. Academy president Cheryl Boone Isaacs called for change Monday in a statement, and the New York Times reported Wednesday that such change could include expanding the number of nominees in each Oscar category or even revoking membership for inactive members.
Having one of Hollywood's most powerful couples speaking out in tandem against the Oscars is a powerful statement. This isn't just a couple of stars saying voters need to do better. This is a full-blown PR catastrophe.
Chances are Rock won't resign — he has a contract to uphold — and the Smiths may be persuaded to back down dependent on what the academy does. But this is the Oscars' crisis point: Deflecting fault onto Hollywood like last year won't be enough. This time, these stars are saying, change must come.