English Prep School Changes Uniforms to Recognize Trans Students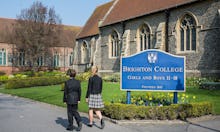 Brighton College, a top private day and boarding school in Brighton, England, is making sure its dysphoric or transgender students are as comfortable as possible. 
From now on, there will be no mandatory gender distinctions in uniforms, as the school will allow its students to choose between wearing a blazer, tie and trousers or a skirt and bolero jacket. The change to the 170-year-old dress code reportedly came after a small number of families approached the school about the uniform rules, reports the BBC. 
Last year, U.K. activist Elly Barnes encouraged boarding schools to adopt gender neutral uniform policies in order to avoid discriminating against LGBT students. This plan takes a different tack by keeping the "gendered" clothes, but recognizing that skirts or pants don't belong to one gender.
The Guardian reports that at least one pupil at the Brighton has already taken up the option, and several others have asked about it. The school appears to be standing by the landmark decision, telling the Guardian that it was merely "reacting to a changing society which recognizes that some children have gender dysphoria and do not wish to lose their emotional gender identities at school." 
According to England's National Health Service, gender dysphoria is defined as a condition where a person experiences discomfort related to a difference between their biological sex and assigned gender. (It is not the same as being transgender and is not related to sexual orientation.)
The school's move comes at a time when students in the U.S. and across the pond are raising issues with the highly gendered state of school uniforms and dress codes. Last year in the U.S., there were several instances of American girls taking to social media to complain about being sent home for modest-looking clothing, and to speak out against seemingly sexist standards they face. 
Brighton College, which is co-ed, is a seriously prestigious school — it was voted the best U.K. independent school of the year from 2013 to 2014 and is literally old-school (170 years old). Yet a sentiment that has picked up steam in the fashion industry — where runways and collections are now celebrating a gender-free future with clothes that are gender neutral or worn with zero regard to gender — seems to have trickled down. After all, it's young people who are most on board, as 14-year-old actress Rowan Blanchard told Elle last year, "It's cool and it's refreshing and it's fun that boys can wear dresses, isn't it?" 
Even the headmasters over in the U.K. feel the same, it seems.
"If some boys and girls are happier identifying with a different gender from that in which they were born, then my job is to make sure that we accommodate that," the school's headmaster, Richard Cairns, told the Guardian. "My only interest as headmaster is their welfare and happiness."
h/t Dazed