NYC Snowstorm 2016: Expected Snowfall and Survival Tips for This Weekend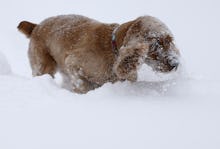 Brennan Linsley/AP
It's beginning to look a lot like winter on the East Coast: Many residents are bracing for what's shaping up to be a Netflix and chill kind of weekend, with a potential foot of snow expected to hit New York City alone. Boston could also see up to a foot of snow, according to CNN, and there could be two feet in store for Washington, D.C. Even the New York Post is highlighting the resemblance the snowstorm, dubbed Winter Storm Jonas, has to the all-white 2016 Oscars.
Though New York City Mayor Bill de Blasio announced Thursday there aren't yet any indications that the city's mass transit system will be closed during the potentially massive storm, he encouraged residents to remain in their homes and skip the frostbite. 
However, residents need not panic. There are a number of sure-fire ways residents can weather winter storm Jonas in pure New York fashion. Sit, back, order up some Chinese and read along to find out the best ways to brave the first major snowstorm of the 2016 winter season.
1) Set the thermostat to a comfortable 68 degrees Fahrenheit and keep it on "automatic."
If you're planning on staying in during Winter Storm Jonas, keeping the temperature in your apartment or home at 68 degrees Fahrenheit will help keep the space warm, while doing the smallest damage to your utilities bill, according to the Consumer Energy Center. If the going gets rough, try using an extra blanket or two instead of cranking up the heat. Instead of turning the heat on and off throughout the day, you can reduce energy consumption by actually setting the thermostat to "automatic."
2) Ditch the kitchen and order delivery.
Despite the frigid temperatures and snowy conditions, New York residents can typically get their favorite takeout meals delivered during even the most catastrophic natural disasters — it's simply the New York way of life. From Chinese food restaurants, to Seamless, to GrubHub and other delivery startups, residents can find a number of hot food options to choose from with door-to-door service. Just don't forget to tip the delivery man generously! 
3) Break out the extra blankets and build a "staycation" fort. 
It's simply too cold to build an igloo. Instead, combine all of the sheets, blankets and down comforters into one magical fort to stay huddled inside of during the upcoming storm, complete with snacks and movies awaiting inside. Consider the placement for your new indoor fort before constructing it — it might be a few days before you decide to come out.
4) Before quarantining yourself from Winter Storm Jonas, buy wine. Lots and lots of wine. (Also consider buying other essentials like food and candles.)
No winter storm would be complete without enough alcohol to last the full duration. Note that typical amounts of wine may not be enough to weather a potential three-day, snowed-in staycation with roommates, family or lovers. Seriously consider purchasing copious amounts of alcohol in advance — as well as other essentials, like canned foods and candles.
5) Locate all of the necessary "just-in-case" items you've stowed away.
Remember those batteries you stuffed all the way in the back of the "miscellaneous" kitchen drawer? Time to break out the flashlights, candles, matches and extra blankets from storage. A shovel will also be useful when it's time to finally come out of the inevitable winter storm hibernation. Check out the Red Cross' winter storm preparedness page to make sure you're ready for the worst.