NY Gov. Cuomo Is Fighting the Laws Preventing Teens From Getting Treatment for HIV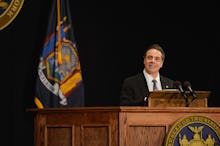 Under New York state law, teens need their parents' permission to get treatment for HIV or to get on HIV-prevention medication. That's bad news for teens who aren't comfortable talking to their parents about sexuality and sexual health — or worse, who are estranged from their parents altogether.
Newly proposed legislation from New York Governor Andrew Cuomo would, if passed, shatter those barriers.
Outlined in the governor's 2016 policy book, the new laws would eliminate the parental consent requirement for HIV-positive teens in need of treatment and for at-risk teens who want to get on Pre-Exposure Prophylaxis, or PrEP — a medication that protects HIV-negative people from becoming infected.
"Once diagnosed, young people often face additional barriers that can prevent or delay access to care, including denial and fear of their HIV infection, misinformation, HIV-related stigma, low self-esteem, lack of insurance, homelessness, substance use, mental health issues and lack of adequate support systems," Cuomo's proposal says. "Because of these factors, many young people need to have the ability to consent to their own HIV treatment."
The proposed legislation is part of a broader push by Cuomo to combat HIV and AIDS in New York. In 2014, he formed the Ending the Epidemic Task Force, a committee dedicated to ending New York's AIDS epidemic by 2020 — in other words, getting the number of new HIV infections down to 750 or fewer. 
New York has made progress since the '80s and '90s. In the early '90s, the state saw around 15,000 new infections annually, according to Cuomo's blueprint for ending the epidemic. In 2013, new infections were down to 3,000. 
But that number could no doubt be lower if teens didn't need their parents' or guardians' permission to treat and prevent HIV. 
In 2010, 26% of all new HIV infections in the U.S. occurred in youths aged 13 to 24, according to the Centers for Disease Control and Prevention, with particularly high infection rates among young LGBT people of color.
"The ability for those young people to be able to go in and talk with a health care provider about who they are, their behaviors, their curiosities, their explorations of self, and get access to the most cutting-edge prevention is absolutely critical," Doug Wirth, an Ending the Epidemic Task Force member and president and CEO of Amida Care, a nonprofit that provides health care to people with HIV, told Mic. 
For Wirth, the current parental consent laws are an "unconscionable" barrier. But they're especially detrimental in the case of LGBT youth, who may face extra challenges when talking to their parents. Over the past 25 years, Wirth has worked with young people "who were kicked out of their house for being gay and lesbian," he said. Around 40% of homeless youth identify with the LGBT community, according to Safe Horizon.
"Think about a minor who needs to go to their parents and say, 'Hey, Dad, Mom, I'm gay, or I'm bisexual, or I've been sexually active and I'm HIV-positive,'" Wirth said. "Given the level of discrimination and stigma that still exists, even in a great city and state like New York, it's a barrier."
"Think about a minor who needs to go to their parents and say, 'Hey, Dad, Mom, I'm gay, or I'm bisexual, or I've been sexually active and I'm HIV-positive.'"
Jim Eigo, a longtime member of Act Up NY, stressed the dangers of limiting young people's access to PrEP. Sure, there are still ways that young people can reduce their risk of HIV infection without PrEP — such as condom use or abstinence — but those aren't always enough. 
"Sometimes people, especially younger people, find themselves in situations where they are not making the choices about what is done and how it is done," Eigo told Mic. "PrEP is the first HIV prevention method that allows receptive partners — women or men — the means to protect themselves, irrespective of the wishes of their partners."
For Eigo, parental consent is a significant barrier — "youth should be allowed to make choices about their health and well-being," he said — but it's not the only one. 
Some doctors are reluctant to prescribe PrEP to young people because Truvada, the PrEP drug, is only approved for adults 18 and over. Other doctors "worry that providing an HIV prevention drug will be a license for sexual activity," Eigo told Mic.
"Young people at the highest risk of HIV infection have the most to gain from a highly effective means of HIV prevention," he said. "Yet no group has more challenges to accessing PrEP than young people, particularly homeless LGBT youth, a group with many needs and few resources."
The goal is for state legislature to take action on Cuomo's bill around June, Wirth said. That means the new laws could be adopted within the year. 
"It is terrific," Wirth said, happily adding that it'll come on the heels of Cuomo's recent legislation to protect transgender people from discrimination. 
But even if the laws are passed, there's still work to do. It would be great to see parental consent laws eliminated in places like Texas and Florida, "where those conversations might be more challenging," Wirth said. 
"It needs to happen not just in New York," he said, "but across the country."