This Company Wants to Send You to the "Edge of Space" — Using Balloons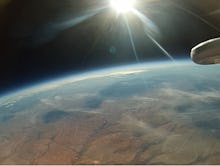 World View Enterprises wants to fly you into the stratosphere. It just got approved to run a spaceport in Tucson, Arizona.
This week, the Pima County Board of Supervisors voted in favor of a $15 million loan that will cover the costs of World View's spaceport and adjacent headquarters within the new County Aerospace, Defense and Technology Business and Research Park. The development is expected to lead to hundreds of new jobs in Pima County, according to the agreement.
What will the spaceport do? Using a balloon system, World View plans to fly passengers, telescopes and cameras 100,000 feet in the air using a pressurized cabin. The voyage will give customers a glimpse into space and an opportunity to see the edge of the Earth.
In addition to a launch pad and an office building, the park will house a balloon manufacturing plant. The company expects to move into the new facility later this year. 
It will cost $75,000 each for six passengers to make the roughly five-hour journey to space, according to Tucson News Now. So far, the company has only run unmanned flights into space, delivering scientific payloads. In October, World View launched a low-scale version of its pod over 100,000 feet above Tucson. It's currently planning a full-scale test sometime this year. The first commercial flights are planned for 2017. 
h/t Tucson News Now