Bernie Sanders Channels Simon and Garfunkel in New Campaign Ad, Upping His Cool Factor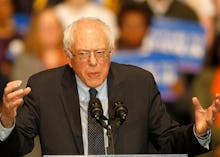 Hal Yeager/Getty Images
Vermont Sen. Bernie Sanders has become the favorite Democratic presidential candidate among young, hip Democratic voters (comedian Seth Meyers even said he makes being old look "fun" like Betty White does). His latest ad featuring timelessly cool Simon and Garfunkel folk classic "America" embodies his authentic old person appeal.
The minute-long ad, released Thursday, plays an excerpt from "America" while flashing scenes of small towns, big cities, middle-class families at their kitchen tables and young hipsters in coffee shops that comprise United States voters. The vibes aim to appeal to the demographic of Sanders supporters that's recently made him a legitimate threat in the polls to former Secretary of State Hillary Clinton ahead of the February Iowa caucus. 
Read more:
The lyrics, "They've all come to look for America," flash across the screen at the 30-second mark as a diverse collage of "American" faces grows denser before cutting to various shots of Sanders' campaign rallies:
Simon and Garfunkel released "America," a bittersweet folk ballad about a young man leaving the small town of Saginaw, Michigan, to pursue the explore America in pursuit of ye olde American dream, in 1968. "This song creates a picturesque journey, touring across the United States," Genius explained of its meaning. "The road trip represents a metaphysical journey of wanting to discover America- which is to say the lost ideals and beliefs it was formed upon. The singer's existential crisis and desperation to find meaning in himself as a citizen and America as a country becomes more apparant through the song, taking over the giddy happiness of the first verses."