Anonymous Launches #OpFlint — And Demands Michigan Gov. Snyder Face Manslaughter Charges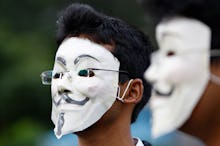 The hacktivist collective Anonymous has now come to the defense of the people of Flint, Michigan, where a massive government screwup has resulted in a citywide health crisis. Thousands are suffering from the effects of lead in the water, such as hair loss and skin rashes. Ten have died from Legionnaires' disease.
#IntelGroup, a faction claiming allegiance to Anonymous, released a video on Wednesday morning to announce #OpFlint, a retaliation for the government neglect that led to the water contamination crisis. Anonymous' top demand is that Michigan Governor Rick Snyder be charged with "voluntary or involuntary" manslaughter or other criminal charges.
"It's clear to us that Governor Snyder needs to be reminded that he is a servant for the very same people he has poisoned and made sick," the video says. "Or perhaps he never forgot. Perhaps corruption is at play here. In that case, he is now going to simply be shown the error of his evil ways."
How realistic are Anonymous' demands? Many are calling for Governor Snyder's resignation after emails, released Wednesday, show that Snyder has known about the problem since January 2015. But expecting him to face charges for "manslaughter" — or negligent homicide, which is likely what Anonymous meant — is unrealistic.
Will the campaign be effective, then? That remains to be seen. Anonymous' latest campaigns have less to do with actual hacktivism — using hacking, infiltration and the release of personal information to expose hidden truths and hold accountable those in power — and more to do with being brash on social media.
Confusingly, Anonymous' Flint campaign centers on the perceived lack of coverage. "We will amplify your voice where the mainstream media will surely fail you, as it has in the past," Anonymous says in its video. But Flint's water crisis is a national story, with the widespread media coverage and investigative reporting Anonymous is calling for.
Hundreds of outlets have been writing about this crisis, some since last year. On social media, campaigns for justice in Flint have been spreading the news of widespread neglect. Black Lives Matter protesters took up the banners, interrupting the U.S. Conference of Mayors' meeting Wednesday to draw attention to the crisis. Many news outlets, including Mic, stationed reporters in Flint this week to file stories from the ground.
Anonymous is right to call out the media for traditionally overlooking issues faced by working-class Americans and people of color. But in the case of Flint, Anonymous is the last to show up.