Will Radiohead Do a US Tour? Here's What We Know After 2016 Europe Dates Announced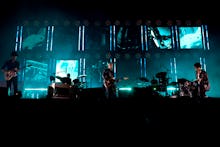 Armando Franca/AP
Radiohead fans will be "Climbing Up the Walls" now that the band has announced it will play at three music festivals in Europe in 2016, Consequence of Sound reported Thursday. The English band reportedly plans to also hit some American festivals this summer starting in July, a source told Consequence of Sound. However, a U.S. Radiohead tour has yet to be confirmed. 
Radiohead was announced as a headliner for Switzerland's Openair St. Gallen, Barcelona's Primavera Sound Music Festival and Portugal's NOS Alive Festival, their first live performances since 2012, Pitchfork reported. Openair St. Gallen will take place on June 30 to July 3, according to its website. Joining Radiohead will be Mumford & Sons, Two Door Cinema Club, Caribou and more.
Read more:
At Primavera Sound Music Festival from June 1 to June 5, Radiohead will be headlining with LCD Soundsystem, Sigur Rós and Tame Impala, according to its website. LCD Soundsystem will be reuniting this year for festivals to their own excited and loyal fans, and has a new album on the horizon.
Radiohead, Tame Impala, the Chemical Brothers and Pixies will all be playing at NOS Alive Festival in Lisbon, Portugal, from July 7 to July 9.
There's been anticipation over Radiohead's upcoming LP. The last album the band released, The King of Limbs, topped the Billboard 200 chart in April 2011. 
Earlier this month, Radiohead took a surprising turn and announced a new company called Dawn Chorus, which many fans believe has to do with the new LP. On Jan. 1, frontman Thom Yorke cryptically tweeted, "The end of hollow words," which riled up fans.
Until then, here's the video for "Creep" to tide fans over: