DC SnowStorm 2016: Expected Snowfall from Jonas and Survival Tips for This Weekend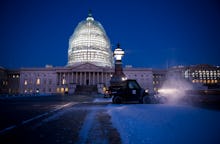 Bill Clark/Getty Images
The National Weather Service and meteorologists are predicting a massive storm system to bring significant snowfall to much of the Eastern Seaboard this weekend. Ice and snowfall are expected to begin on Thursday and move northward to hit New York and Boston by Saturday. As is usually the case with extreme weather warnings, news of the storm is causing a fair amount of anxiety. And yet, though it can't hurt to be prepared for the upcoming storm, it could be that the hype is somewhat warranted. If reported estimated snowfalls come true, Washington, D.C., could be bracing for the worst snowstorm since 1922, according to CNN.
That year, the nation's capital weathered an estimated 28 inches of snowfall thanks to the Knickerbocker storm, so named for the Knickerbocker theater where nearly 100 people died after the weight of snow caused the roof to cave in. According to an advisory from the National Weather Service for this weekend's storm, between 18 and 30 inches of snow could accumulate across the Washington area.
Read more:
A blizzard warning is in effect for the area from Friday afternoon through Saturday night, according to the advisory, which adds that the storm's hazards include "heavy snow and wind with blowing and drifting snow Friday afternoon through Saturday night. Sleet may mix with the snow Friday night into Saturday morning east of Interstate 95 before changing back to all snow by Saturday afternoon."
Adding to the hype, Capital Weather Gang tweeted updates about snowstorm Jonas — the name given to the storm by the Weather Channel — after viewing the latest global forecast system models. "New GFS model coming in right now absolutely crushes D.C.," reads the tweet. "Historic, mind-boggling snow amounts simulated. Today is day to prep."
To prepare for severe winter storms, the American Red Cross has a number of suggestions, including insulating homes by either covering windows with tape to trap heat inside or by installing storm windows. The Red Cross advises that vehicle owners should fill their cars' gas tanks so that liquid in the fuel line doesn't freeze, and that heating systems should be inspected regularly through the year.
The American Red Cross also suggests assembling an emergency preparedness kit for severe storms, which includes basic supplies like non-perishable food and water (they recommend about a gallon per person per day), batteries, flashlight, warm clothes and extra cash. Don't forget pet food if you're an animal owner. 
Jan. 19, 2016, 2:38 p.m.: This story has been updated.