Here Are the Actors Boycotting the 2016 Oscars, and the People Who Support Them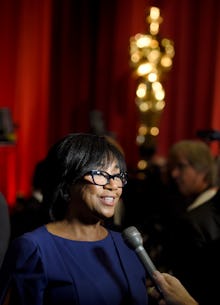 Chris Pizzello/AP
Within the next few days, the Academy of Motion Picture Arts and Sciences is reportedly planning to introduce a plan for improving integration at the Oscars, but does the belated effort come a little too late? On Monday, the Academy's president Cheryl Boone Isaacs issued a statement expressing her disappointment over the absence of representation for people of color amongst the 2016 Academy Award nominees, but her promise that the organization will do better hasn't prevented Hollywood's big names from joining the #OscarsSoWhite boycott.
"I am both heartbroken and frustrated about the lack of inclusion," Boone Isaacs said. "This is a difficult but important conversation, and it's time for big changes. The Academy is taking dramatic steps to alter the makeup of our membership. In the coming days and weeks we will conduct a review of our membership recruitment in order to bring about much-needed diversity in our 2016 class and beyond."
Those steps may include expanding the list of best picture nominees to include a few of the year's notable snubs. As the Academy moves toward making amends for its pattern of racial exclusion, it's unclear whether or not the attempt will change the minds of a growing number of celebrities who won't be taking part in the ceremony. Here's a list of those who won't be going to the 2016 Academy Awards.
Jada Pinkett Smith called for the boycott shortly after the nominations were announced. On Jan. 16, she sent out a series of three tweets in which she said, "At the Oscars, people of color are always welcomed to give out awards... even entertain, but we are rarely recognized for our artistic accomplishments. Should people of color refrain from participating all together? People can only treat us in the way in which we allow." 
Then, on Jan. 18, she followed up on that sentiment in a video posted to Facebook. "Here's what I do know," she said. "Begging for acknowledgement or even asking diminishes dignity and diminishes power, and we are a dignified people and we are powerful. And let's not forget it. So, let's let the Academy do them. With all grace and love. And let's do us differently."
A few Hollywood figures, including Janet Hubert, Stacey Dash and Whoopi Goldberg, have criticized Pinkett-Smith's boycott, prompting her to put out another video explaining that the boycott "isn't really about the Oscars." Rather, it's about encouraging "all communities and people of color to take back [their] power."
Will Smith has officially joined the boycott as of Thursday. "We're part of this community but at this current time, we're uncomfortable to stand there and say that this is OK," he told Good Morning America's Robin Roberts Thursday. "There is a position that we hold in this community, and if we're not part of the solution, we're part of the problem," he continued. "It was her call to action, for herself, and for me and for our family to be a part of the solution."
Despite best actor buzz around his lead role in Concussion, Smith did not receive a nomination from the Academy.
Michael Moore, an Academy member and an Oscar winner joined the boycott on Jan. 19. "I don't plan to go to the show, I don't plan to watch it and I don't plan to go to an Oscar party," the director told the Wrap. "The idea that we could go two years in a row, where 40 actors could be nominated and none of them were black, is just crazy. So if it will help to lend my name to what Spike and Jada are doing, I'm hoping to be a symbolic participant in this [boycott]."
Which brings us to...
Spike Lee, Academy Award-nominated director and diehard Knicks fan, won't be at the 2016 Oscars — but not because he's boycotting them, he explained Wednesday on Good Morning America. "Feb. 28th, we'll be at the world's most famous arena, Madison Square Garden, to see my beloved orange and blue hopefully beat the Miami Heat," he said. "I'm going to the game." 
"Here's the thing. I have never used the word boycott," Lee continued. "All I said was my beautiful wife Tonya, we're not coming. That's it, then I gave the reasons, so I never used the word boycott."
"My wife, Mrs. Tonya Lewis Lee and I will not be attending the Oscar ceremony this coming February," Lee's Instagram post read. "We cannot support it....how is it possible for the 2nd consecutive year all 20 contenders under the actor category are white?"
Al Sharpton isn't typically an Oscar attendee, but he has joined the debate, asking members of his civil rights group, the National Action Network, to refrain from watching or attending the ceremony. "The lack of African-Americans and women excluded from the major categories of Oscar nominees is appalling," a spokesperson from the Network said, according to the Wrap. "Cheryl Boone Isaacs, the African-American president of the Academy, is nothing but a pawn, and the black face of Hollywood's system and culture that is racist, sexist and lacks true diversity."
Snoop Dog won't be watching, either. On Jan. 19, he posted a profanity-laden video to Instagram, captioned "Fuck da Oscars." 
"Somebody asked me was I gonna watch the motherfucking Oscars," the rapper said. "Fuck no. What the fuck am I going to watch that bullshit for?"
Mark Ruffalo, meanwhile, is on the fence. In an interview with BBC Breakfast on Wednesday, he said "It isn't just the Academy Awards, it's the entire American system is rife with a kind of white-privileged racism," Ruffalo told host Charlie Stayt. When asked if he was going to join the boycott, the actor responded that he hadn't made up his mind yet.
"I'm weighing it," he said. "That's where I'm at right now. I woke up in the morning thinking, 'What is the right way to do this?' Because if you look at Martin Luther King's legacy, what he was saying was the people, the good people who don't act are much worse than the people, the wrongdoers who are purposely not acting and don't know the right way."
Ruffalo received an Oscar nod for his supporting role in Spotlight.