When Will the Snowstorm Start? Here's the Latest Forecast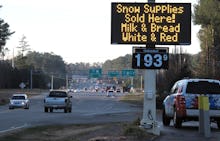 Allen G. Breed/AP
By now, news of Winter Storm Jonas, which earns itself the privilege of the first major snow storm of the season, has been sweeping the media. Meteorologists warn the Northeast of powerful winds, coastal flooding, snow and sleet. The area around Washington, D.C., is expected to get the brunt of the storm, with more than 20 inches of snow possible, the Weather Channel reported. As of Thursday morning, about 15 states and 73 million people are predicted to be affected by the storm.
State officials and airlines are gearing up for the serious storm. Some states, such as Virginia, have already declared a state of emergency. On Wednesday, New York City's Office of Emergency released a public service announcement to help people prepare for what could be significant snowfall, ABC reported. 
The blizzard watch for New York City and the surrounding area begins on Saturday, but starts on Friday for Washington, D.C., and Philadelphia. 
Snow developed in the central plains on Wednesday night. Winter storm warnings and advisories are set for Nebraska, Kansas and Arkansas. 
The storm will move east over the weekend, and peak snowfall — and possible sleet — will likely occur on Friday and Saturday. Residents in Eastern Kentucky to West Virginia and Maryland to Delaware can expect up to 20 inches of snow, the Weather Channel reported. About six inches are forecast for New York, Ohio and Tennessee. Ice is likely to accumulate in the Carolinas.
Saturday will see extreme winds of up to 60 mph around New Jersey and Maryland.
There's also a full moon this weekend, so Saturday morning and evening will be at risk for coastal flooding. The wind and snowfall could cause the ocean to rise up to six feet above high tide.
By Sunday, the winds and snow should decrease for the Northeast.