Is Chris Rock Doing the Oscars? Host Faces Pressure to Back Out Amid Controversy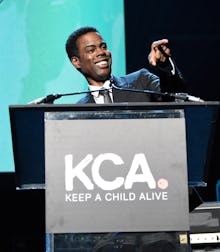 Kevin Mazur/Getty Images
Comedian Chris Rock is reportedly under pressure from actors and other influencers in Hollywood to bow out of hosting the 88th Academy Awards. Growing calls for a boycott from civil rights activist Rev. Al Sharpton, Gotham actress Jada Pinkett Smith, and most recently her husband, Concussion actor Will Smith, have only added to the pressure for the comedian to withdraw from hosting the award ceremony. 
Sources reportedly close to Rock have told the gossip site Naughty Gossip that the comedian is facing pressure to withdraw from the Oscars behind the scenes. "Many leaders in the black community think he would help progress be made if he quits his hosting job at the Oscars," sources told Naughty Gossip. "Chris is listening to what they have to say, but thinks he will have a bigger impact by doing the show. He thinks it is easier to make a difference from the inside."
Read more:
° Why Is Jada Pinkett Smith Boycotting the Oscars? Actress Speaks Out in Facebook Video
Former Oscar winner Whoopi Goldberg said she thinks boycotting Rock wouldn't be much better. "Chris Rock is the host of the Academy Awards, and so to boycott him seems just as bad as what everybody is saying," the talk show host of The View said. "We have this conversation every year, and it pisses me off. And it pisses me off because there's not a lot of support for little companies who make movies that may be more diverse."
Singer Tyrese Gibson offered his perspective on the Oscars controversy, telling People magazine that he believes Rock should withdraw from hosting. "There is no joke that he can crack," the Fast 5 actor told People Wednesday. "There is no way for him to seize the moment and come into this thing and say, 'I'm going to say this and say that I'm going to address the issue but then I'm still going to keep my gig as the host.' The statement that you make is that you step down."
Filmmaker Spike Lee, who never said he would boycott the Oscars, still won't be attending the ceremony. "Here's the thing. I have never used the word boycott," The Chi-Raq director told Good Morning America Wednesday." All I said was my beautiful wife Tonya, we're not coming. That's it, then I gave the reasons, so I never used the word boycott. Lee will be attending a New York Knicks game with his wife instead. 
Rock has not publicly come forward regarding the boycott, but it appears as though he will host the 2016 Oscars.