Kanye West and Miley Cyrus' "Black Skinhead" Remix Is Honestly Pretty Dope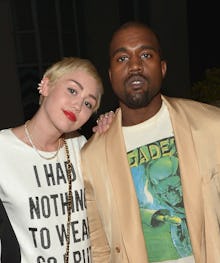 Charley Gallay/Getty Images
While we wait for Kanye West's upcoming album Swish and his promised weekly Friday track release, this unofficial remix of his 2013 jam "Black Skinhead" with Miley Cyrus leaked on the internet and regardless of its legitimacy, it's really good. 
The trap remix, leaked Thursday, features Cyrus singing the lyrics to Tears for Fears' 1985 "Everybody Wants to Rule the World" between West's verses over a brighter, at times heavier, trap beat. It's available to download and stream on lesser-known audio host Audio Inbox. 
This doesn't count as West's weekly official track release he promised starting New Year's Eve with the song "Facts" that ripped on Bill Cosby and Steve Harvey at points. We can still expect a fresh Yeezy track Friday.
West evaded the Swish release date for almost a year before announcing a Feb. 11 release date on Twitter.
Correction: Jan. 21, 2016