'Star Wars: Rogue One': What We Know So Far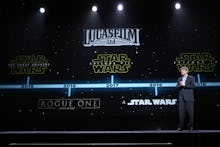 Jesse Grant/Getty Images
While Star Wars fans are collectively mourning over the delayed release of Episode VIII, it's easy to forget that we're less than a year away from another Star Wars film — granted, a spinoff. Rogue One: A Star Wars Story, the first of three anthology films for the ever-expanding galaxy far, far away, is slated for a Dec. 16 release. The film, which will be directed by Gareth Edwards — most recently known for his Godzilla remake — has been kept under wraps by Disney, much like The Force Awakens. However, there is still enough information out to frame a good picture of what to expect. 
What's it about, and who's in it: Rogue One will take place right before the events leading up to A New Hope's gorgeous opening sequence, as it will reveal how Princess Leia and the Rebels initially received the plans of the Death Star, which led to the Empire hunting them down.
What stands apart most of all is a story that's likely to focus on characters in the vein of Han Solo — important, but not Jedi-wielding badasses, which will be the first time the Star Wars films take this step. "It's about the fact that God's not coming to save us, and we're on our own," Edwards said at the Star Wars Celebration in Anaheim in April 2015, according to the Hollywood Reporter. "The absence of the Jedi is omnipresent in the film. It hangs over the whole movie."
Rogue One has also revealed its cast, though none of the specific roles are known yet. Among the ensemble group is Felicity Jones (The Theory of Everything), Mads Mikkelsen (NBC's Hannibal), Forest Whitaker (The Butler) and Alan Tudyk (Firefly). Though Mikkelsen is best known for his villainous roles in Hannibal and Casino Royale, the actor said in an interview with a Danish paper that his character is "actually not a bad guy," according to Cinema Blend. 
At the Star Wars Celebration, a very vague teaser was also released for the film, which uses new footage of the Death Star over the voice of Alec Guinness' Obi-Wan Kenobi. 
The script was recently "saved": While Rogue One is currently in post-production, it could have had a similar delay to Episode VIII if not for the help of Mission Impossible: Rogue Nation director Christopher McQuarrie, according to a Latino Review report in October 2015, later confirmed on Monday with a source by Birth. Movies. Death. According to Birth. Movies. Death. sources, McQuarrie was brought in to fix the script and his tweaks were described as having "saved" the film, though he may not receive official credit for his role.  
"Realistic" aliens will appear: Though there were plenty of aliens featured in The Force Awakens, most notably in Maz Kanata's cantina, Rogue One creature effects supervisor Neal Scanlan said that they will be more "realistic" in the upcoming film — a suggestive hint that more of the main cast will be featured as aliens, rather than human characters — according to MTV. 
"They're a closer part of the storytelling," Scanlan said, in an interview with MTV. "They're less of the world, and they're more of this group who have a mission, and play a part in that."
A Darth Vader cameo could happen: While Hayden Christensen almost made a cameo as Darth Vader in The Force Awakens, it is more likely that he will make an appearance as the menacing Sith Lord in Rogue One, according to Cinema Blend. Additionally, Making Star Wars is reporting that a "Darth Vader Dream Team" is being assembled for Rogue One, with James Earl Jones — the original voice actor for Darth Vader — set to return to voice the lines. 
Though it is pure speculation at the moment, concept art of Darth Vader's cameo in The Force Awakens was revealed in a coffee table book by Stars Wars illustrator Iain McCaig, the Independent reported, which at least confirms that Christensen had some involvement in the new set of films, even if it never left the production floor. Whether Christensen, Jones or both return, it would be a welcome cameo for one of sci-fi's most iconic villains.