How to Prepare for a Snowstorm: Here Are the 6 Things You Shouldn't Be Without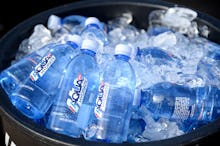 Chris Weeks/Getty Images
With Winter Storm Jonas set to hit the Northeastern U.S. this weekend, everyone from Washington, D.C. to Boston is preparing for a major storm. Here are the essentials that will help every household make it through the coming snowstorm.
1. Drinking water
Having emergency water around is always a good idea, especially with a storm coming. The American Red Cross suggests having, at the minimum, a three-day supply of water, "one gallon per person per day."
2. Non-perishable food
Snowstorms can close down grocery stores and restaurants and make getting around difficult, so it's a good idea to stock up on non-perishable foods that are easy to make, like canned soups, granola bars, peanut butter, crackers, dry cereal and canned tuna.
3. Medications
The American Red Cross recommends having a seven-day supply of any necessary medications before a winter storm hits — because it can be pretty impossible to refill a prescription in a blizzard. The Red Cross also suggests stocking up on "medical items," like contact lenses and solution.
4. A flashlight (with extra batteries)
Like bottled water, flashlights are a handy thing to have around in case of emergencies. On the off-chance the power goes out during a snowstorm, it can get pretty dark. Keeping a flashlight (and extra batteries) in a designated place will make it easy to find, even with the lights off.
5. Warm blankets
In case temperatures drop during a snowstorm (or if a power outage knocks the heat out) it's important to have other ways of keeping warm. Piling on blankets can help people stay warm, even in a cold apartment. Specially-designed thermal blankets (aka space blankets), fold up really small and are made to keep body heat in.
6. A first-aid kit
Having a basic first-aid kit in the house is always a good idea, especially if there's a chance of being snowed in. Good things to include are adhesive bandages of different sizes, antiseptic wipes, gauze and thermometers.