Will the Subways Shut Down This Weekend? Winter Snowstorm Puts New York City on Edge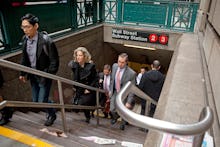 Christian Science Monitor/Getty Images
A potentially "historic" snowstorm is forecasted to hit New York City and other East Coast cities this weekend, but the subways likely won't close, according to officials. In fact, in a press conference Thursday, New York Mayor Bill De Blasio recommended New Yorkers opt for mass transit as a safer travel option to driving or walking this weekend.
Based on the forecast for this weekend's storm, dubbed Winter Storm Jonas by the Weather Channel, De Blasio doesn't "anticipate" the city will have to close the subway, he said during the Thursday press conference. Furthermore, he encouraged New Yorkers to stay off the streets and use the subway system for travel instead.
Read more:
New Yorkers may remain skeptical about the subway staying in operation through the storm after the government similarly urged people to opt for the subway during an overhyped January 2015 storm, only to have New York Gov. Andrew Cuomo shut it down. 
De Blasio said that won't happen again. "The initial impulse that we were going to deal with something that might take extreme measures wasn't wrong," he said regarding the local government's handling of the 2015 storm. "The lack of coordination was a real problem and obviously decisions should've been different."