Latest Apple Rumors Show Many Changes for iPhone 7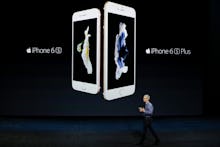 Eric Risberg/AP
Although the iPhone 6s and the iPhone 6s Plus launched in September, many are already looking forward to the highly anticipated release of the iPhone 7 and iPhone 7 Plus. The internet is swirling with rumors about the potential release, from the removal of the headphone jack to wireless charging.
Most rumors websites seem to concur that Apple will release the update to the iPhone line in September, but perhaps even as soon as spring for a smaller model iPhone. 
No headphone jack? One of the more substantial rumors surrounding the release of the newest iPhone is that the device will not have the 3.5mm headphone jack, in an attempt to make the device slimmer. According to Fast Company, a source with knowledge of Apple said "the new phone will rely on its Lightning cable port for sound output to wired headphones." 
There are several rumors that accompany the headphone-less iPhone, with some who believe Apple will include a set of Lightning cable connected headphones with the iPhone 7. However, Apple is planning on selling its own wireless earbuds alongside the iPhone 7, according to Fast Company. 
New Emojis! 74 new emoji characters have been accepted for Unicode 9.0 by the Unicode Technical Committee, which means any of the new emojis may appear on your phone in June. The emojis could appear on the iPhone 7 if it drops in September. 
These emojis are only candidates at this time, which means they will not appear on any phone at this time. The emojis need to be approved for Unicode 9.0.
Some of the new emoji symbols up for acceptance include a man dancing, a person doing a cartwheel, a fencer, a drooling face and a literal rolling on the floor laughing face.
A smarter phone: According to the Wall Street Journal, Apple has purchased Emotient Inc., an artificial intelligence startup that uses technology to read emotions. 
"Apple buys smaller technology companies from time to time, and we generally do not discuss our purpose or plans," an Apple spokeswoman told WSJ, declining to comment further. However, some rumor sites say that the purpose of the purchase was to help apps like Siri display smarter suggestions and advice. 
Wireless charging? In 2015, iPhone parts supplier Qualcomm announced that it has created the first solution that will allow wireless charging for devices with metal exteriors, which means Apple users may see wireless charging in the near future. 
"Building a wireless charging solution into devices with metal exteriors is a significant step for moving the entire industry forward," Steve Pazol, Qualcomm general manager of wireless charging, said in a statement. "Today, more device manufacturers are choosing to utilize metal alloys in their product designs to provide greater structural support and, of course, aesthetics."
A source close to Apple told Fast Company that while the new release could support some form of wireless charging, Apple has removed features from new phones late in the development process. This means iPhone 7 users may have to wait for a later release for full wireless charging. 
Waterproof phone? Another popular rumor surrounding the release of the iPhone is that Apple is preparing the new iPhone to be water-resistant. 
According to MacWorld, the Chinese blogging site Weibo claims Apple is currently undergoing waterproofing tests for the new iPhone release. A source with knowledge of Apple appears to corroborate the waterproofing theory, telling Fast Company that the company is looking at waterproofing technology. 
The Samsung Galaxy S7, slated for release in 2016, will have water-resistance capabilities, according to VentureBeat. The source believes that it is very likely that a waterproof iPhone 7 could hit shelves. 
Li-Fi Capability? A rumor surrounding Li-Fi capability, a wireless standard that is said to have 100 times faster download speeds than Wi-Fi, for the new iPhone appears to be reality. 
A tweet from a twitter user,  @kyoufujibaya, reads 'Li-Fi testing is already imminent. May appear in the next iPhone 7 according to iOS code in iOS 9.1 firmware.' The user also posted an image of code, that may evidence Apple's testing of the Li-Fi technology.
According to the Huffington Post, the new iPhone would use visible light communication to transmit data, rather than the radio waves Wi-Fi routers use. Professor Harald Haas of Edinburgh University coined the term Li-Fi, short for light fidelity. He invented the new wireless broadband technology in 2011.
Li-Fi capability for the new iPhone "doesn't seem surprising in the least," according to Apple news site 9to5.com. 
According to the Daily Mirror, however, Apple fans may have to wait a few more years for Li-FI to completely shift towards public consumption. Researchers believe Li-FI will be "ready for commercial use by the end of the decade."
Twin Camera System: 9to5.com recently posted an application for a patent that confirmed Apple is testing out iPhone 7 model that may have dual rear cameras. The patent describes several benefits, including possible simultaneous filming regular speed and slow-motion video, a potential camera sensor, and more.
Patently Apple further examines these benefits, one of which, would allow iPhone users to take a zoomed-in photo without having to crop pixels, which generally results in a image with a lower resolution.
The Apple news website 9to5.com makes clear that the company does not use every patent in their final products, which means the twin camera system may or may not make it to the final iPhone 7 model.