Kanye West's Remix of "Black Skinhead" Just Leaked — And It Features Miley Cyrus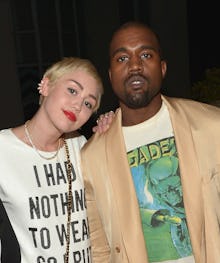 Kanye West and Miley Cyrus teamed up on a remix of the rapper's "Black Skinhead" years ago. Thursday, fans got to hear it for the first time.
West and Cyrus' collaboration is almost a mashup, taking the former's single from his 2013 record Yeezus and adding Cyrus singing Tears for Fears' "Everybody Wants to Rule the World." The result is a slice of pop-friendly delight — ironic considering how transgressive both artists can be.
The remix was recorded in 2013, directly after the MTV Video Music Awards where Cyrus gave her most memorable performance of "We Can't Stop" with Robin Thicke. Producer Mike Will Made It reportedly worked on the track, while the version of the remix that hit the internet Thursday also features vocals from Travis Scott.
In its current form, the remix seems unfinished, though remains remarkably listenable. The chorus from "Everybody Wants to Rule the World" fits nicely inside the existing "Black Skinhead" structure. In fact, considering the song was recorded in 2013, it's remarkable how much it sounds like a song that could be released in 2016. 
While the world waits for Swish, West's new album coming Feb. 11, this track serves as something of a snack ahead of the release. It'll tide fans over, but they'll remain hungry for the main course.
Listen to the remix below.