Will There Be a Power Outage in My Area? Here's What to Do if Snowstorm Knocks Out Power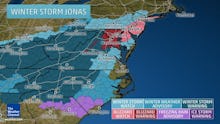 The Weather Channel
Brace yourselves, East Coasters: Winter Storm Jonas is coming, and quite possibly taking out some power lines in its bid for arctic dominion. 
Jonas has already barreled through the Midwest and Appalachia, making its way for the Mid-Atlantic. According to the Weather Channel, more than 73 million people nationwide were under weather advisory as of Thursday morning: Blizzard watches, winter storm watches and warnings, winter weather alerts and freezing rain advisories stretched from Nebraska, across the South and up to New York City. Jonas is expected to bring with it ice, biting winds, possible feet of snow and maybe even severe coastal flooding. 
Read more:
Essentially, it looks like conditions will be perfect for power outages. Powerful northeasterly winds are expected, which could leave Virginia, Maryland, Delaware, New Jersey, Long Island and parts of southern New England without electricity, the Weather Channel reported. There's a chance that fallen tree limbs or whole trees could take down power lines if gusts are strong enough. 
New York City could get up to 10 inches of snow, with wintry mix and extreme winds posing a more pressing threat to the coast. Washington, D.C. (for which a blizzard warning is in effect starting Friday) could be looking at as much as three feet of snow by Sunday, according to MarketWatch.  The accumulated weight of so much wet snow could also break branches and power lines; it's possible that hundreds of thousands could lose electricity in affected areas. 
What to do now: While no one can say for sure what Jonas will bring, it's always best to be prepared. When it comes to power outages, the Red Cross advises:
• Stocking up on batteries and flashlights ASAP
• Finding an alternate power source for electronics, and turning them off (or at least putting them on airplane mode) when using them isn't necessary. Keep phones, computers, etc. at a 100% charge for as long as possible.
• Getting a cooler ready to preserve some of the perishables from the fridge, and picking up some non-perishable foods before the weather gets bad. Anything that doesn't require a stove, microwave or much water to prepare is advisable. And not option-limiting in the slightest.
• Securing water. Those with bathtubs might want to fill them up — should the power go out, that tub water can be used to keep the toilet flushing. The Red Cross recommends a gallon of water per person per day, so plan accordingly. And, of course, conserve.
• Assembling a first-aid kit.
• Getting a battery-powered or hand-crank-operated radio, as well as a "multi-purpose tool," for MacGyver moments.
• Keeping a store of cash on-hand. If Jonas gets apocalyptic, we could find ourselves without access to ATMs and in need of funds with which to secure life-saving resources, like more water. (Will money be a thing in the post-snowmageddon world?) And if this storm is anything like Hurricane Sandy in its effect, snowed-in city-dwellers will need that cash to tip their waiters and bartenders. (But take it easy on the booze: Alcohol dehydrates.)