Leonardo DiCaprio Wants to Play Russia's Vladimir Putin — Here's What That Could Look Like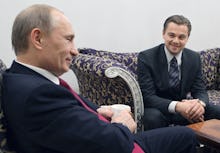 Alexei Druzhinin/AP
Is this the roll of a lifetime? The character Leonardo DiCaprio was born to play? Russian President Vladimir Putin. In a recent interview, the five-time Oscar nominee told German newspaper Welt am Sonntag that he coveted the chance to portray Russian President Vladimir Putin onscreen. 
"Putin would be very, very, very interesting," DiCaprio said. "I'd like to play him."
The actor seems to entertain a fascination with the more infamous figures from Russia's history, perhaps because of his Russian heritage. "Lenin would also be an interesting film role," the actor continued. "I'd also like to play Rasputin. I think there should be more films about Russian history. Because Russia embraces so many stories of almost Shakespeare-like quality. That's immensely fascinating for an actor."
DiCaprio told Welt am Sonntag that he met Putin in person once, at a St. Petersburg summit to save the Siberian tiger, an animal whose protection had been financially supported by his foundation. The two talked solely about the tiger, the actor said, and not about politics. 
As the International Business Times reported, DiCaprio impressed Putin with his perseverance in getting to the summit: The actor encountered numerous obstacles while traveling to the Russian city, and the fact that he managed to overcome them led Putin to label DiCaprio "a real man."
"A person with less stable nerves could have decided against coming," Putin said, according to the IBT, "could have read it as a sign — that it was not worth going." A person with less stable nerves could not play Putin. 
What would a DiCaprio-as-president-of-Russia biopic look like? It would almost necessarily involve big cats. Putin loves big cats.
Were DiCaprio to take on the role of Russia's president, the actor would have to shape up: The figure-conscious leader would never allow himself to develop a dad bod. Fortunately for the Titanic star, Putin's workout plan has been made public. DiCaprio should brace himself for a relentless onslaught of all-steak meals and a punishing weight-lifting routine. Maybe there could be a fitness montage?
Perhaps the film would include plot lines "lifted right out of a spy novel," shining light on the lately buzzed-about, alleged murder of Alexander Litvinenko, a former Russian spy who died in 2006 after drinking a beverage laced with polonium-210. Did Putin commission the hit? Was it a revenge killing? Only time and Leonardo DiCaprio can tell. 
And according to PravdaReport.com, the Russian film industry is open to the American actor taking up its historical mantel. Should his performance in The Revenant fail to clinch an Oscar for DiCaprio in 2016, perhaps he can look forward to a win for his breathtaking turn as Putin in years to come.