How to Keep Your Pipes From Freezing During Winter Storm 2016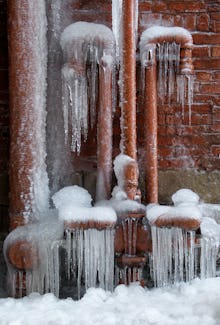 Mark Duncan/AP
With the East Coast's first 2016 winter storm looming, obvious preparation involves stocking up on food and water at the grocery store — but aside from being stuck inside without ample snacks, having freezing pipes might be the worst consequence of a snowstorm. Frozen pipes can prevent people from showering and staying warm, and no one (that we know of) wants that. 
Pipes stop working when there's water trapped inside them and that water freezes, so essentially, releasing the water trapped inside your pipes ahead of time will do the trick, Jeff Smith, owner of a Virginia hardware store, told WTOP. "Shut off the valve on the inside of your house that controls the outside hose spigots," Smith said. "Shut it nice and tight." 
Then, open the outdoor faucets. "That'll let all the water trapped in the pipe out of the pipe, so that will prevent water getting stuck in the pipe, freezing and bursting your pipes," Smith told WTOP —  quick and simple two-step process. 
Read more:
Additionally, those going on vacation are advised to leave their heat on at least 55 degrees, WKRN reported. For the super-cautious, purchasing water pipe heating cables can further prevent pipes from freezing, Smith told WTOP.
Pipes most susceptible to freezing are obviously pipes located outdoors or in unheated areas of the house. This includes water sprinkler, pool supply, basement, attic and garage lines, WKRN reported. As for garage pipes, keeping garage doors closed is vital.