Who Is Columba Bush? A Quick Guide on Jeb Bush's Wife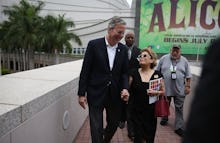 Joe Raedle/Getty Images
Though former Florida Gov. Jeb Bush has struggled in the national polls as donor concerns mount, he has a unique advantage over most of his GOP competitors: a pull to the Latino vote. This may be due to the fact that Bush's wife, Columba Bush, is Hispanic, and according to the Miami Herald, he regards her as his "secret weapon" for the campaign. "I have Hispanic children, I have Hispanic grandchildren," Bush said. "I'm part of the community ... I cannot imagine having the same kind of numbers [with Hispanic voters] that Republicans have had in past presidential elections. I think I can do better."
However, Columba Bush has remained out of the spotlight, not only in Bush's presidential campaign, but throughout his political career. 
Columba Bush and Jeb Bush first met when the former governor visited Columba's hometown of Leon, Mexico, in 1971, as part of a high school program, according to the Washington Post. He said he was instantly in love. "My life can be defined in one real, powerful way, which is B.C. and A.C.: Before Columba and After Columba," Bush said, according to the Post. "I fell madly in love with her — literally love at first sight. Whatever I was doing beforehand, I vaguely remember. But my life got really organized after that."
Jeb and Columba maintained a relationship after he left the country — he sent letters to her wherever she was at the time, according to the Post. By 1973, Jeb Bush was ready to tell his family that Columba was the woman he intended to marry, and though they were never introduced to her, his mother, Barbara Bush, hoped for the best. "How I worry about Jeb and Columba," Barbara Bush wrote in her memoir, according to the Post. "Does she love him? I know when I meet her, I'll stop worrying." 
Incredibly, only one photo remains from the couple's wedding. Jeb's brother, Marvin Bush, who was the photographer at the wedding, accidentally double-exposed the film with photos from a Frank Zappa concert, according to Time. On their anniversary last year in February, Jeb Bush shared the lone wedding photo in a tweet (while sporting an impressive stache): 
Since then, Columba has supported Jeb's political career, though she has hinted that it has hurt the family dynamic — particularly with their children. This is exemplified in their daughter's history of drug addiction. Noelle Bush had tried to fill a fake prescription for Xanax in addition to an attempt to steal pills and conceal crack cocaine in her shoe. While Jeb Bush described the incident as "hell" in a post shared on Medium, Columba Bush had admitted to reporters that being part of a political family "absolutely" was a factor in her daughter's struggles, according to the Atlantic. She does, however, keep a very tight lid on her personal life. 
"In her advocacy, Columba has worked with organizations that highlight the "heartache and destruction" caused by teenage drug addiction," Hanna Rosin wrote for the Atlantic. "But she keeps her own heartaches private."
Even her relationship with her father is not entirely clear, with conflicting reports as to its extent. According to the Post, Columba Bush's father had physically abused her mother on several occasions, and at one point broke her fingers with a belt buckle. After her parents' divorce, some reports suggest that Columba never interacted with her father again, while a 2004 biography of Columba Bush by Beatriz Parga — written in Spanish, but translates to Columba Bush: The Cinderella of the White House — says that she spent time with him in California prior to her marriage to Jeb Bush, according to the Atlantic. 
Whatever happened though, the history of domestic violence became a staple in the former Florida first lady's philanthropic efforts. "By all accounts, she advocates earnestly and effectively, visiting shelters, studying reports on addiction in adolescence, putting together exhibitions, and connecting donors with charities," Rosin wrote for the Atlantic. "Everyone I interviewed who's worked with her says she doesn't seek the limelight, nor even any recognition for her actions—which is admirable. It's admirable, too, that she's been able to remain, well, normal, despite her marriage into such a high-powered political clan."
Though Jeb's presidential aspirations aren't promising at the moment, he'll continue to receive support from his wife, despite her preference to avoid of the public spotlight. "I did not ask to join a famous family," she said, according to the Post. "I simply wanted to marry a man that I loved."