Will Tame Impala's 'Currents' Win a Grammy? Why It Could Be Australian Band's Year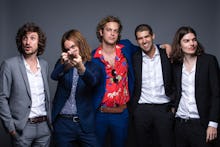 Mark Nolan/Getty Images
An exhaustive list of new and seasoned artists have been nominated for accolades at the 58th Annual Grammys show — and unlike the Academy awards, the nominees come from more than one ethnic group. While some ink has already been spilled predicting who will walk away with the prestigious awards this year, one group in particular has sparked a fair amount of speculation — Australian rock outfit Tame Impala. 
The five-piece psychedelic rock-pop group has been nominated for an award in the category of best alternative music album for 2015's runaway hit LP Currents. However, in order for the band to take home its first Grammy, Currents will have to beat out Alabama Shakes' Sound & Color, Björk's Vulnicura, My Morning Jacket's The Waterfall, and Wilco's Star Wars.
Read more:
Tame Impala was formed in 2007 and released its first EP, Tame Impala EP, the following year. Though the band's membership has been a bit of revolving door, today the group includes Kevin Parker, Dominic Simper, Cam Avery, Jay Watson and Julien Barbagallo. The band's first full-length record was Innerspeaker, which was released in 2010. Lonerism's 2012 release preceded the group's most recent release. 
It's not all that surprising that fans are wondering about a possible Grammy for Tame Impala this year, considering the group's year in 2015. On July 17, the band released its third studio album, and the record was perhaps its most dazzling yet, judging by the record's critical acclaim. The response to the album was overwhelmingly positive, in part for how Currents stood as physical proof of the group's sonic evolution and increasingly intricate sound, but also for the LP's graduated and relatable lyrics.
After its release, Pitchfork awarded the record a 9.3 out of a possible 10, arguing that the album's technical strength was altogether bolstered by the lyricism's apparent emotional intensity. "The emotional power of Currents comes from its willingness to accept that relationships will expose an introvert's every character defect," wrote Pitchfork's Ian Cohen.
Likewise, Spin scored the album a nine out of a possible 10. "The real magic of Currents... is in how Parker so effectively (and genuinely, for the most part) manipulates the listener's emotions without necessarily revealing any himself," Spins' Harley Brown wrote. 
Now that fans have collectively fallen off their chairs over Currents, many are crossing their fingers in hopes that the record is recognized. A dedicated Reddit thread has even emerged to discuss Currents' odds of winning at the Grammys this year. And the consensus, according to diehard Impala fans, is looking bright, considering the group has risen in the public consciousness in recent years (They've been invited to play at a number of big-time music festivals this year).
"This album is more than worthy for the best alt album award," wrote one user. "Tame is obviously on their radar since Lonerism was nominated." The Redditor also points out that though Vampire Weekend was first nominated for a Grammy for its second album, they were finally awarded one of the prestigious awards after releasing their third LP. 
"It's always a bit of a mystery how the Grammys decide which music is good or not," wrote another Reddit user who weighed in on the thread. "If sites like Pitchfork praise it, it will probably get under the Grammy radar."
This isn't the first time the Australian band has been up for a Grammy. In 2014, Lonerism was nominated for best alternative album at the 56th Grammy awards.
For Tame Impala, perhaps the second time's the charm.