Bernie Sanders Soars Past Hillary Clinton in New Iowa Poll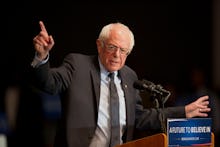 Sen. Bernie Sanders (I-Vt.) has vaulted past Hillary Clinton in Iowa, boasting a solid lead over the former secretary of state just 11 days before the Hawkeye State's caucuses launch the presidential nominating process.
That's according to a new CNN/ORC survey of likely Democratic caucusgoers, which finds Sanders besting Clinton 51% to 43%, with former Maryland Gov. Martin O'Malley registering 4% support. The result marks a remarkable 26-point swing since last month, when CNN/ORC found Clinton trouncing Sanders 54% to 36% in the state.
Behind the results: The survey suggests that Sanders' progressive populist campaign has touched a nerve with likely caucusgoers. By a 57% to 38% margin, respondents said Sanders best reflected their own values; last month, Clinton edged Sanders on that score, 46% to 44%.
Moreover, it appears that Clinton's relentless attacks on Sanders' single-payer health care proposal haven't worked decisively to her advantage: 51% of respondents said they preferred Sanders on health care issues, compared to 45% who picked Clinton. On the economy, Sanders has a 58% to 36% advantage.
Perhaps unsurprisingly, the former secretary of state holds a commanding 65% to 25% lead on the question of which candidate is best-equipped to handle foreign policy.
But foreign policy ranks low on Democratic caucusgoers' list of concerns: While 46% said their top issue was the economy and 20% picked health care as their top priority, only 12% identified foreign policy or terrorism. 
A note of caution: Still, Iowa polls have been volatile as of late: Two other polls released Thursday, from Emerson College and Monmouth University, found Clinton leading Sanders by 9 points.
At this late hour, uncertainty seems to be the only certainty: The RealClearPolitics polling average shows Clinton and Sanders heading into Iowa in a dead heat, with Clinton at 46.5% support and Sanders at 43.4%.
Fasten your seat belts.