New Iowa Poll Shows Trump With Strong Lead Over Cruz With Caucuses Fast Approaching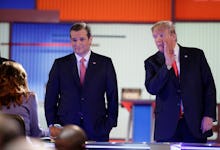 Donald Trump has a cushy lead over rival Sen. Ted Cruz among Republicans likely to caucus in the Feb. 1 Iowa presidential contest, a new poll out Thursday shows.
Manhattanite Trump led Texan Cruz 37% to 26% among likely GOP caucus-goers in Thursday's CNN/ORC poll, with Sen. Marco Rubio of Florida in a distant third with 14% support.
The gap between the two leading candidates narrows dramatically when only voters who participated in the 2012 caucuses were counted: Trump pulled 30% support among previous caucus-goers, compared to 28% for Cruz — a statistical dead heat.
A test for Trump: Trump has dominated national surveys of Republican voters in the wild race for the GOP nomination, but Cruz, a sitting member of the Senate, has been creeping up on him in bellwether Iowa.
The caucuses will be an early and telling test of whether Trump, a first-time candidate for political office, can not only score headlines and pull thousands of people to his rallies, but whether his team can orchestrate an effective ground game. 
The Palin effect? The survey ran from Jan. 15 to Jan. 20, a window which included Trump's Tuesday rollout of the endorsement of former Alaska Gov. Sarah Palin, who could help him among conservative Christian voters.
However, CNN reported, "the sample size is not large enough to assess whether it made any difference in the race."
The poll — which also found Sen. Bernie Sanders leading Hillary Clinton on the Democratic side — had a sample of 266 likely GOP caucus-goers and had an error margin of plus or minus six percentage points.
Ready to lead? On specifics, Iowa Republicans are "divided when it comes to who would best handle foreign policy, with Trump (27%), Rubio (26%) and Cruz (25%) in a virtual three-way split," the survey found. 
"On the question of which candidate better represents Republican values, 29% choose Cruz, 28% side with Trump and 15% favor Rubio," CNN said. "Cruz holds an edge as the one who would better handle social issues, however, with 29% to Trump's 18%."