Savages' New Album 'Adore Life' Will Remind Listeners How to Love in a Fucked Up World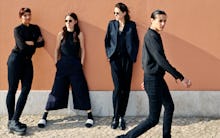 When Savages' lead singer and lyricist Jehnny Beth heard David Bowie had passed away on Jan. 10, her world seemed to change in an instant.
"I was absolutely devastated," Beth told Mic, reflecting upon that fateful day. "I mean, we've always imagined that moment when David Bowie would die, but it was still very hard to believe in a world where he's not here in any more. Because he was immortal. If he can die, then I'm going to die for sure."
Savages' music has never been afraid to breathlessly explore dark, unforgiving landscapes — worlds like "dead sorry holes," filled with fake loves and unfeeling husbands, to revisit a few of the images appearing on its critically acclaimed debut, Silence Yourself. 
However, the post-Bowie world Savages now faces is unlike all of that poetry. It requires a special kind of mourning to deal with and move forward.
"On one hand you feel very sad, but on the other you feel inspired that you're going to have to live up to his example," Beth said. "[Bowie] reminded us what it means to make music with integrity, what it means to be an artist. It's important to do your work and always compare how you're doing with Bowie's, because it's the best example you could have for how to do this job."
Thankfully, Savages' latest album — Adore Life, released Friday — passes this litmus test with flying colors.
The songs on Adore Life are every bit as efficient and vicious as its predecessor. However, while the doom-laden ballads were the exception on Silence Yourself, here they are the rule. The songs are slower, more meditative — an earthy, rather than a fiery, punk. The album is also far more optimistic and listens like an untiring search for meaning in a world that offers no sympathy for the lazy or jaded.
In a June interview with Pitchfork, Beth described the album's relationship to the first as, "The last one was the problem. This one is the solution."
Looking back now, Beth said, that summation seems a little too simplistic.
"Am I allowed to contradict myself?" she asked. The answer is of course. 
"The first record was about pointing out what was wrong and trying to establish a voice and presence on our own terms," Beth said. "We started the band in London, and looking at the bands around us ... everyone was twee and kind of soft and not trying to say anything. Everything was centered around the music industry and what would please that audience. So it was about the problems, because reality needed a little kick in the ass."
This time around, the band's entire context is different. "We traveled all around the world and found we had a voice," Beth said. "That changed a lot of things. So the record is about trying to find your own solutions, in a way, but it's a little more inward-looking. It's maybe more personal."
While touring with the band, Beth said she found herself exploring some of the deepest unknowns she could think of, namely love. The piercing, self-dissecting lyrics she wrote were so confessional she doubted they would work with Savages. She discussed it with the rest of the members — which include guitarist Gemma Thompson, bassist Ayse Hassan and drummer Fay Milton — and they agreed this new direction shouldn't be censored. This was the music that was coming; the band agreed to surrender itself to it.
Beth repeated a description Josh Homme — of the Queens of the Stone Age, Kyuss and Eagles of Death Metal fame — offered when they discussed the record on his Alligator Hour radio show on Jan. 13. "It's like when you're with a friend and you're saying something that this person can use to destroy you," Beth paraphrased. "That sensation, 'I'm putting this on the table and I can die from this,' is exactly how I felt preparing this record."
Throughout the album she sings about self-doubt, insecurities, the fallibility of our minds and bodies. "Is it love, or is it boredom?" she asks on the particularly brutal "When in Love." "That took me up/ To your bedroom."
The same kinds of questions appear on the album's single "Adore," which came earlier this month with an arresting, intimate video. "If only I'd lived beyond regret/ I wouldn't feel guilt for what I take/ Is it human to ask for more? Is it human to adore life?"
In the end, the album's answer to this question is yes — nothing is more human. 
"Action is always the best cure, for any self-doubt, any anxiety," Beth said. "Nothing comes for free. If you want to find a little joy, love or freedom, basically you have to understand that will only come from an effort on your part. Nothing is given to you. Everything has its cost. Everything has its dark side. Love doesn't come for free. If you love, you're always going to face its opposite."
The record illustrates both with such a defiant, voyeuristic grace, it can be hard to look away. But why would one want to? The fatalistic optimism it offers may be exactly what the world needs in building courage to face the challenges ahead.