EPA Regional Administrator for Flint, Michigan, Resigns Amid Water Crisis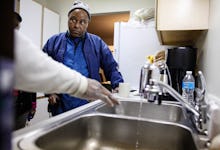 Sarah Rice/Getty Images
Amidst one of the biggest environmental disasters in Michigan history, the Environmental Protection Agency's regional administrator for Flint, Michigan, resigned Thursday. 
"EPA Region 5 Administrator Susan Hedman has offered her resignation effective February 1, and EPA Administrator Gina McCarthy has accepted given Susan's strong interest in ensuring that EPA Region 5's focus remains solely on the restoration of Flint's drinking water," the agency said in a statement, according to CNN.  
Read more:
Last week, Hedman said though her agency "did not alert the public to the potential dangers, it followed proper protocol by repeatedly prompting Michigan's DEQ to implement corrosion controls," according to the Detroit News. 
EPA Administrator Gina McCarthy, the top environmental official in the U.S., issued an order for Michigan Gov. Rick Snyder to take "immediate action to address serious and ongoing concerns" Thursday, according to the Detroit News. 
On Monday, McCarthy said, "EPA did its job but clearly the outcome was not what anyone would have wanted," according to Reuters. 
President Barack Obama declared a federal state of emergency in Michigan over the crisis Flint on Jan. 16.