Tom Cruise Cast in 'The Mummy' — Here's Everything We Know About the Reboot So Far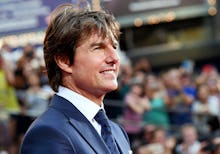 Evan Agostini/AP
Action star and couch-jumper Tom Cruise has been cast in a reboot of the horror flick The Mummy, according to the Hollywood Reporter. Universal Pictures announced that the film, which will reportedly star Kingsman: The Secret Service's Sofia Boutella alongside Cruise, is scheduled to hit theaters June 9, 2017.
Variety is reporting that the Cruise's The Mummy, unlike previous iterations of the franchise starring Brendan Fraser, "will be set in present day."
Alex Kurtzman, whose writing credits include Star Trek and Transformers, is reportedly set to direct. The Mummy is reportedly part of a larger plan to create an interconnected universe of monster movies.