This High-Tech Innovation Will Revolutionize How Long-Distance Couples Have Sex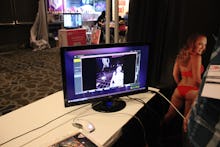 There's plenty to see at the Adult Entertainment Expo (NSFW), an adult industry convention and trade show held annually in Las Vegas: display after display of brightly colored, bejeweled dildos; tanned, toned women power-walking in stilettos, lace thongs and little else; hundreds of porn fans, ogling those women while they wait for autographs and pictures. 
Yet despite the kaleidoscope of flesh, mesh, leather and lace on which attendees can feast their eyes, the most compelling sight at the convention was holograms of nude women, viewable via a bulky virtual reality headset. Instead of gawking at the countless adult performers milling around them, fans were gathered around, gawking at nude holograms. 
Entrepreneurs in the worlds of tech and smut have already identified virtual reality as "the future of porn," and they've already made great strides in diversifying porn consumers' VR options. Companies like VR Tube (NSFW) and HoloGirls VR (also NSFW) offer pre-recorded scenes that allow users 180- or 360-degree views of the action, thereby letting them choose what they want to see, from what angle and for how long. 
As the 3-D scanning technology behind VR improves, however, developers are also finding ways to let users do what they want to performers, making it feel as if they're not just viewers, but actually directing — and participating in — their own scenes. The technology could have major implications for the way we connect with each other from afar, allowing people to live out their sexual fantasies through 3-D avatars. 
One of the companies pioneering sex-avatar technology is Holodexxx, a Toronto-based startup that has created what is, essentially, an interactive porn video game. Unlike the mythical porno game envisioned in 30 Rock, however, Holodexxx's version includes 3-D digital avatars of nine well-known porn performers — including Tori Black, Lexi Belle and Mia Malkova (NSFW) — that users can grab, grope, smack and stroke the simulations all they want, using a VR headset (like Avegant Glyph or Oculus Rift) and a pair of controllers that act as hands. 
"The [other VR porn] stuff I've seen has all been passive. It's a canned, pre-recorded video that you're just watching play back in front of you," Morgan Young, a co-founder of Holodexxx, told Mic at the Adult Entertainment Expo. "What we're developing is something that you can control. You can be a part of it. It's real-time, you control the outcome, you move the model the way you want to." 
The simulation shows users a 360-degree view of a "room" that looks sort of like the set of American Idol circa 2004, in which a naked model stands in different poses on what appears to be a black-and-fuchsia gridded stage. The avatars flirt with their eyes and alternately pout or lick their lips, actions Young and his team are able to simulate after each performer models 40 to 50 different facial expressions at Holodexxx's studio. The expressions are captured from all different angles, allowing the developers to create an uncanny digital likeness that responds to users' directions and movements. 
Users can then select from a series of positions on the left-hand side of the screen (just walk over and point with one of the controllers) and make the avatar, say, get on all fours or lay spread-eagle on the ground. Of course, what users can't do is make performers participate in actions that haven't been pre-recorded. So, if a given star doesn't agree to get her or his face slapped, for instance, Holodexxx won't record the facial expressions necessary to create that animation. According to Young, it's a built-in method to avoid exploitation. 
"We're casting stars and models based on their willingness and what they're willing to do on film," Young said. "It's a pretty clear indicator of whether or not they'll be OK doing this in a virtual world, in a game. We haven't run into any issues. If there is an issue, we'll absolutely deal with it on an individual basis." 
Eventually, though, the avatar won't have to be a porn star — it could look just like your long-distance partner. As 3-D scanning technology improves, Young said, couples will be able to scan themselves with reasonable accuracy in the comfort of their own homes, allowing them to create their own avatars that they can use together when they're apart. With current technology, at-home avatars wouldn't be as precisely rendered as Holodexxx's (that would require the same pricey animation tools the company has at its studio), but in time people could create more detailed simulated versions of themselves or their partners.
Holodexxx also plans to make teledildonics, or sex toys that can be controlled from afar, part of the equation sooner rather than later. That would let users control not only what they do to an avatar, but also enact it with a corresponding toy for a real-life partner. For now, though, Young said they're trying to focus on making the porn-star version as accurate as possible, then they'll figure out how to make the product useful for more than one person at a time. 
"What we're developing is something that you can control. You can be a part of it."
While Holodexxx might be one of the only companies developing interactive sex avatars at the moment, other VR companies are also working on ways to make their products compatible with teledildonic technology, not to mention with couples' needs. George He, a spokesman for HoloGirls VR, told Mic his company is looking to give couples new ways to act out their fantasies together. 
"Imagine a married couple, each wearing a headset [while they're having sex]," He said. "In their points of view, they can each see someone else, as if they're having sex with a different person, but they're having sex with their partner in real life." 
That could also allow partners to dictate how the other sees them. If, for instance, one person wants to look like a giant kewpie doll, he or she could have a partner put on a VR headset during sex and see that during the act. Regardless of what users want to see, He said, the technology has the potential to let them see it — and as HoloGirls, Holodexxx and other holographic porn companies continue to grow, the options for sharing the experience with a partner will grow as well. 
"It's still the early days," Young said. "There are still bugs to work out. The technology is still catching up." But, he added, "we're offering a unique take on virtual reality."