Leonardo DiCaprio Eviscerates the Oil and Gas Industry in Powerful Climate Speech at Davos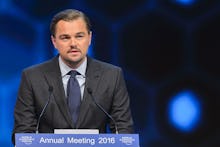 DAVOS, Switzerland — From Vice President Joe Biden and Secretary of State John Kerry to British Prime Minister David Cameron and Israeli Prime Minister Benjamin Netanyahu, there was no shortage of poignant speeches from the who's who of world leaders attending this year's World Economic Forum annual meeting in Davos, Switzerland.
One of the most memorable, however, came when actor Leonardo DiCaprio delivered a fierce attack on the oil and gas industry, before a captive audience of politicians and CEOs, during his acceptance speech at an awards ceremony held on Tuesday evening.
DiCaprio, who recently took home a Golden Globe for best actor and is being touted as an Oscar favorite for his performance in The Revenant, received a different kind of honor here in Davos, one recognizing his environmental activism on the issue of climate change.
He was one of four Crystal Award winners, which recognizes artists who have "shown exemplary commitment to improving the state of the world." The other three winners were musician will.i.am, for his work on underprivileged youth education, artist Olafur Eliasson and Chinese actor Yao Chen for her work on the refugee crisis.
DiCaprio held little back in his remarks, using the occasion to go right after oil and gas companies, many of whom were notably in attendance at Davos.
"We simply cannot afford to allow the corporate greed of the coal, oil and gas industries to determine the future of humanity," DiCaprio said. "Those entities with a financial interest in preserving this destructive system have denied, and even covered-up the evidence of our changing climate. Enough is enough. You know better. The world knows better. History will place the blame for this devastation squarely at their feet."
DiCaprio was clear to emphasize that while the recent Paris agreement providing a framework to reduce carbon emissions is an important first step in addressing climate change, the world is still nowhere close to solving the problem. 
As a result, he called on political, business and philanthropic leaders to join together and commit to divesting from their fossil fuel holdings and replace them with clean energy investments. 
"Our planet cannot be saved unless we leave fossil fuels in the ground where they belong. Twenty years ago, we described this problem as an addiction. Today, we possess the means to end this reliance," DiCaprio said. "If we all do our part and act with bold leadership, we can achieve major, meaningful progress."
DiCaprio also used the occasion to announce that his foundation is making $15 million in new commitments to fund sustainability projects.