#StopHateDumpTrump Gets Backing From Kerry Washington, Other Hollywood Celebrities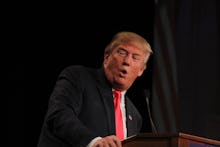 Raoul Gatchalian/Star Max/IPx/AP
A coalition of anti-Trump activists are gaining speed as politicians, scholars, voters and the Hollywood elite join a petition to boycott Republican frontrunner Donald Trump. The petition, which is using the slogan #StopHateDumpTrump, takes aim at what its supports see as fear-mongering, hateful, potentially dangerous rhetoric they believe would be damaging to a democracy should the real-estate mogul take office. 
Among recent high-profile signatories is American actress and Scandal star Kerry Washington. But Washington is far from alone in expressing her opposition to Trump. By signing the petition, Washington joins philosopher Noam Chomsky, singer Macy Gray, actress Rosanna Arquette, actor Dylan McDermott and a long list of others, famous or otherwise.
According to the movement's mission statement, the petition's purpose is "To call out Donald Trump for his hatred, misogyny, Islamaphobia, and racism and to give platform for the voices of the silent majority of Americas who do not and will not stand for it," and "to put the media and political institutions on notice that they are accountable for normalising Trump's extremism by treating it as entertainment, by giving it inordinate and unequal air time and by refusing to interrogate it or condemn it." 
Read more: 
Learning of the petition, some users have used Twitter and other social media platforms to raise awareness.
Of course, Trump is no stranger to opposition. Just ask members of parliament and dignitaries in the U.K., who recently spent a full two hours debating whether or not to enact a ban barring the politician from the country. Yet despite guttural opposition from many, others say the spectacle of Trump's rhetoric has helped boost viewership ratings during this elections cycle of debates. 
For now, the #StopHateDumpTrump movement is offering no call to action other than garnering more support in the form of signatures. Yet those who support the boycott hope that a united front against Trump is enough to spark a sea change of opposition to the business tycoon. 
"We hope that the diverse and passionate group of individuals that immediately agreed to sign on to this campaign will inspire a collective awakening amongst Americans to speak out, create and join initiatives that bring attention to the many who reject Trump's vision for the country," said Kimberlé Crenshaw, a law professor who teaches at both Columbia and UCLA, in a press release. 
"In a true democracy, there has to be a line between deliberative debate and mob rule."