Winter Storm Jonas 2016: Updates, Travel Delays and Subway Shutdowns for DC and NYC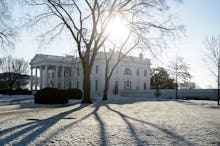 Brendan Smialowski/Getty Images
As what the Weather Channel has named Winter Storm Jonas hits Washington D.C. Friday and heads north toward New York Saturday, the National Weather Service's final forecasts for snowfall show the storm will have a much heavier impact in D.C. than it will in New York City. While forecasts show both areas should be affected by the storm, D.C. will likely get significantly more snowfall. The blizzard has already caused flight cancellations in several East Coast cities and is expected to shutter mass transit in D.C. over the weekend. 
Flight cancellations: United Airlines is canceling all flights departing from Washington Dulles International Airport and Newark Liberty International Airport in New Jersey for Friday and Saturday, resuming service Sunday. 
Washington: There's an 80% chance that Jonas will dump at least a foot of snow in D.C. Friday afternoon through Saturday, according to the most recent National Weather Service forecast. Multiple forecasts predict a range of 16 to 30 inches in some areas, the Washington Post reported. A blizzard warning is in effect for the region starting Friday at 3 p.m. EST through Sunday 6 a.m. EST, according to the report. 
Intense winds combined with heavy snowfall will make any mode of travel difficult as whiteouts are expected in some areas, the Post reported. "This is a serious and life-threatening winter storm," the Post wrote. "Preparations should begin today and be completed by Friday afternoon."
The Washington Metro will close at 11 p.m. EST Friday and remain closed through Saturday and Sunday, Metro CEO Paul J. Wiedefeld announced at a press conference Thursday. 
"This is not a storm that anyone should take lightly, and I would urge all residents to plan to get to a safe place before the storm arrives Friday afternoon," Wiedefeld said. "The actions we are taking today are all in the interest of our customers' and employees' safety, and will help us return to service once the storm passes and the snow is cleared."
For a detailed report of service changes for D.C. mass transit, click here. 
New York City: The storm won't hit NYC until early Saturday morning and it's not even likely that the city will get a foot of snow. According to the latest National Weather Service forecast, there's only a 10% chance NYC will see a foot of snow and a 40% chance of eight inches. Wind speeds could reach between 25 and 35 mph, CNBC reported.
Still, New York Mayor Bill De Blasio urges New Yorkers to take precaution by staying off the street and opting for underground travel instead. Last year's January winter storm led New York Gov. Andrew Cuomo to shut down the city's subway system, but in a press conference Thursday, De Blasio said that reflected poor handling on the government's part and won't happen this time. 
Nonetheless, the New York City Subway tweeted Thursday that weather conditions will determine service changes as they happen this weekend.