US College Student Detained in North Korea for 'Hostile Act'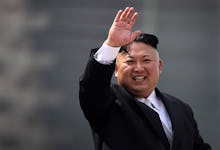 A U.S. college student is being detained in North Korea for, according to North Korea's state-run media, "committing a hostile act against the state," Reuters reports.
University of Virginia student Otto Frederick Warmbier, 21, was visiting North Korea on a five-day trip organized by Young Pioneer Tours when he was detained at Pyongyang airport on January 2, reports Reuters. Warmbier was scheduled to fly from Pyongyang to China.
Warmbier is reportedly a Cincinnati native, majoring in "economics with a minor in global sustainability" at UVA, reports Reuters.
KCNA, North Korea's state-run media, said on Friday that Warmbier had come from the U.S. to North Korea with an "aim to destroy the country's unity." There is no U.S. embassy in North Korea, but officials at the U.S. embassy in Seoul, South Korea, are reportedly "aware" of Warmbier's arrest and detention.
Gareth Johnson, a representative for Young Pioneer Tours, told Reuters that the company is "in touch with Otto's family, the U.S. State Department and the Embassy of Sweden in Pyongyang and doing all we can to secure his release."