Designers Put Donald Trump, George W. Bush and More in Unisex Clothes at Fashion Week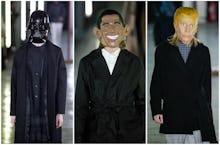 Donald Trump, Hillary Clinton, George W. Bush, Vladimir Putin and Barack Obama all walked in a fashion show on Wednesday. Well, kinda. 
As a part of Paris' Men's Fashion Week on Wednesday, fashion label Avoc sent male and female models down the catwalk in latex masks resembling Clinton, Bush, Obama and then some. 
It was absolutely terrifying. 
As it so happened, they also looked super stylish, save for the shiny faces. Obama walked in a sleek navy coat; Clinton rocked a sensible cape. Trump's overcoat was, ironically, very understated. (Bush, on the other hand, didn't fair quite so well...)
The masks didn't come with clear messages, but a hint of a political angle may hide in the title of the show, "Natural Born Pirates." There were no peg legs or eyepatches to be found, so who are the pirates? Obama? Trump? All politicians (and political wannabes)? 
A deeper message may also lay in the juxtaposition of the masks and clothing — Bush, after all, was wearing a tailored skirt. 
The two designers behind Avoc, Bastien Laurent and Laura Do, pride themselves on creating inclusive, unisex, gender-neutral clothing, as well as embracing items typically assigned to one gender or the other — something that's all the rage in fashion today. Their show, part of Men's Fashion Week, also included female models.
"The unisex industry is still very small, but we have always been and will continue to be driven by design that works for both sexes," Laurent told Women's Wear Daily in an article published Wednesday.
The trend hasn't quite trickled down to mainstream clothing quite yet. Even if it does, we have a hard time picturing Bush or Trump embracing skirts or dresses. 
But hey, we don't have to wait. Avoc went and just did it for us.
It's certainly not the first intersection of politics and fashion — not even this month. In Milan, asylum-seekers were honored as models on the runway, and in Paris, penis-inspired garb had its own political intentions. 
But these masks are a whole new level of haunting, especially with a Darth Vader cameo mixed in, as well as someone who may or may not be Vladimir Putin.
We're going to leave the interpretation up to you. All we're hoping (praying, even) is that these masks do not become a new, trendy accessory, at least not until Halloween. 
h/t Mashable