Georgia Police Officer Who Killed Anthony Hill Indicted for Murder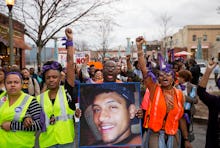 Officer Robert Olsen will face murder charges for the March shooting death of Anthony Hill, the New York Times reports. The announcement came Thursday after a DeKalb County, Georgia, grand jury agreed to a six-count indictment, including charges for aggravated assault, felony murder and violation of oath by a public officer.
The indictment stems from an incident that took place in March at an apartment complex in Chamblee, 14 miles northeast of downtown Atlanta. Neighbors called the police when they saw Anthony Hill — a black, 27-year-old U.S. Air Force veteran — naked, speaking incoherently and jumping repeatedly from a second-story balcony.
Olsen of the DeKalb County Police Department responded to the call. Olsen shot Hill twice when the 27-year-old allegedly continued to approach the officer after being ordered to stop. Hill was unarmed at the time, and his death sparked protests across the region, part of a nationwide surge against the same patterns of anti-black police violence that killed Michael Brown, Freddie Gray and hundreds more across the country.
Hill's family has since said Hill was bipolar and had post-traumatic stress disorder, the latter stemming from a recent tour of military duty in Afghanistan. "To me this is the most blatant case of police brutality that's out there right now," Bridget Anderson, Hill's girlfriend of three years, told CNN in October. "I just don't see how you could kill a naked man."
Law enforcement officers in the United States killed 1,138 people in 2015, a rate of 3.1 per day, according to the Guardian's Counted database. And black victims were killed at a rate of 7.18 per million, more than twice the rate of Hispanics and Native Americans, the "runners-up," for lack of a better term. White people were killed at a rate of 2.92 per million. According to the Washington Post, approximately one-quarter of people shot and killed by police in 2015 showed signs of mental illness.
OIsen is the ninth American police officer to face criminal charges for an on-duty shooting that occurred in 2015, according to the Post. Police officers rarely face criminal charges for on-duty shootings, but reports indicate that Thursday's decision was especially unusual. According to the Times, officers in Georgia are afforded unique privileges under the law. These include having access to grand jury meetings in their own cases, and being able to address said juries without being cross-examined or rebutted by prosecutors.
Olsen reportedly spoke to the grand jury members for 20 minutes, but was unable to sway them in his favor. Also of note: He was armed with a Taser at the time of the shooting, but did not use it, even though he was reportedly trained on how to de-escalate situations involving mentally ill subjects.
It's clear Olsen's indictment won't bring Hill back, but it does represent some semblance of justice for his family. "This is a day in history," Christopher M. Chestnut, a lawyer for Hill's family, said, the Times reported. "Hopefully, this will set a precedent for discouraging paramilitary policing."